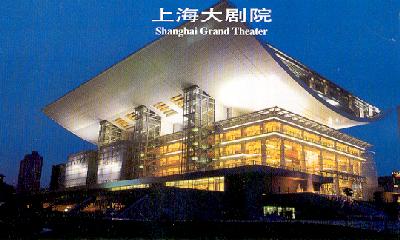 Shanghai Grand Theater
Since August, 1998, putting into the test run and the performance to the public for ten months, the Shanghai Grand theater has successively held various kinds of theatrical performances for opera, ballet, symphony orchestra, large-scale comprehensive art festivals etc. Among them, more than thirty domestic and foreign famous performing troupes or artists have successively performed classical opera, dance drama, recital of a vocalist etc. on the stage of Shanghai Grand Theater. The Theater has hosted the performances of the first grade of the world, such as, classical grand opera Aida (in cooperation with Italy Florence Opera Theater), Faust (in cooperation with France Paris Opera Theater), Cinderella performed by Belgium Royal Ballet Troupe, Romeo and Juliet performed by the United Kingdom Royal Ballet Troupe, Dong Quixote performed by Australia State Ballet Troupe as well as Berlin Broadcasting Symphony Orchestra, Petrograd Malinski Opera Theater Philharmonic Symphony Orchestra, piano players Fu Cong and Ashkennaki, World Tenor Caleillas etc. All these events have become the sparks on the cultural performing market in Shanghai and even in China.
Quite a proportion of the performances of the domestic theaters and troupes have also provided a vast stage for numerous performances. The large-scale activities to be held by the Theater include: 1998 Shanghai National Day Soiree, 1999 Celebrating the 50thAnniversary of the Liberation of Shanghai, and the Spring of Shanghai Soiree, October and November, 1999 Saint Malinski Concert and China International Art Festival.
Website: www.shgtheatre.com
Address: No.300, Renmin Dadao, Shanghai
Post code: 200003
Tel: (021)63875480  63868686