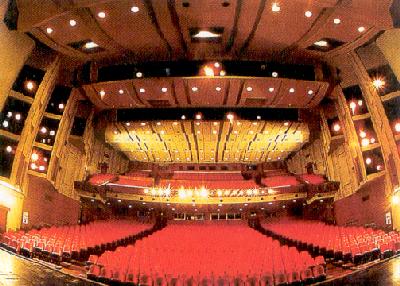 China Theater
The China Theater was founded in September 1984. For ten years and more, it has received many famous artistic performing groups from home and abroad, inside and outside the army. It is an important cultural activities center in Beijing, the capital of China.
China Theater boats relatively advanced push-and pull, rise-and fall mechanical stages and orchestra pits, provides fine guarantee for the stage art deals. Various kinds of computerized lamps and lanterns add dazzling splendor the stage art. The scientific rational sound system and the advanced acoustic recording equipment offer the best audio and video effects for holding high level and high grade large symphonic concert. The magnificent ceiling lamps in the hall of the Theater, the 1500 nice and cozy seats in the audience hall, the saloons, big and small with a capacity of some 100 and so forth, invariably demonstrates the splendid and luxury of the China Theater.
The stage of the Theater is 15meters wide, 8 meters high and 21meters deep. In the back stage there are three stories of totaling up to ten dressing rooms and a special dressing room. Added to those in the basement, they can accommodate nearly 1000 actors at once time. China Theater also has 200 square meters of recording room and has a high-speed duplicating recording department to produce 8000 packets of cassette tape per day. With these, the Theater boasts a complete service system of performance, recording and tape production.
China Theater has quite a strong setting art design project department. The general manager Bi Qiliang is a first grade art designer, a council member of Chinese Stage Art Society, a member of the Chinese Performers Association; manager Meng Wei is a member of the Dancers' Association, dancing choreographer-director. The department has a strong managerial staff including dance art designers, computerized painting designers, lighting and acoustic designers, as well as dance art directors, The Theater may undertake and complete a large-scale theatrical series and the design work for stage art, light and sound effects in the television recording, and may also provide a coordinated process for high quality services of decoration, rehearsal and performance management.
With a perfect security system and a standard system of high technology, China Theater provides trustworthy security guarantee for any kinds of important political activities. China Theater tries its best to open to various circles of the society, sincerely welcomes new and old friends of various circles to China Theater for organizing and taking part in the various activities.
Website:  www.china-theater.com.cn
Address:  No.16 North Road, West Third Ring, Beijing
Post Code:  100081 
Tel:  (010) 68419381
Fax:  (010) 68417844