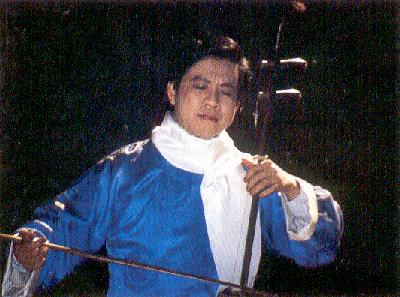 Quyi Art Trope of Sichuan Province
The Quyi Art Troupe of Sichuan Province was established in April 1963. Since 1980s, the Troupe has created and performed many outstanding programs: Wooing of Phoenix, Autumn River and Party for Ships (Sichuan Yangqin programs); The Story of Chengdu, Emei Tea (Sichuan Qingyin programs): Whom Does the Child Look Like? 109 Heros on Liangshan Mountain, Lan Guilong Expecting His Wife and Zero Point Seven (cosmic dramas); Talking about Dog (cosmic dialogue); Spring Festival and Singing Neighbors (dramas in Sichuan dialect); Something Happy for The Parents (cosmic comedy), etc. These programs have won dozen of prizes at national and provincial folk art or music competitions. The folk music essences: The Spring in Jianmen (duet of Erhu and Zheng); Man Jiang Hong (Erhu concerto); Ship Anchors at the Three Gorge (duet by Erhu, Pipa and Zheng); Characteristic of Bashan Mountain (Pipa solo); the Golden Autumn Evening in Sichuan and Jiang Jun Ling (folk instrument ensembles); Qin Yuan Chun: Snow (Poem by Chairman Mao sung with Sichuan Qingyin)―have won a lot of prizes at national and local music competitions in recent years. To contribute to the international cultural exchange of, many instrument players gave lectures and performed in the U.S., France, Germany, Hungry and Japan.
In the Troupe, there were a lot of old-generation folk art artists such as Li Decai, Wang Younsuo, He Kechung, Huang Dejun. In 1960s, a great number of middle-aged artists showed their talents, such as Xiao Shunyu, Shen Fa, Che Xiaoqian, Ma Zhenshan, Ba Debin, Xu Shu and Liu Shiyan. In recent years, there are some new excellent ones such as Liang Yin, Chen Lin, Li Yonglin, Lu Yaxiong, Sun Yunxin, and etc.
Address: No.8, Laodongchenggen Street, Chengdu, Sichuan Province
Post code: 610031
Tel: (028) 6636092