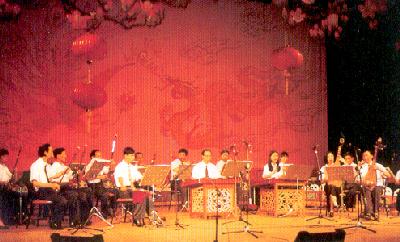 Guangdong Music and Ballad Company
The Guangdong Music and Ballad Company was set up in 1958. It is the only professional art troupe in China that performs Guangdong folk music and Guangdong ballad-singing and story-telling. Among its repertoire, Sing in Praise of the Great Man won the 7th Wenhua program prize and Wenhua performance prize awarded by the Ministry of Culture. Mourning tune to the rhythm of Guanglingsan, played by Pipa (4-stringed Chinese lute) with singing and Celebrating the Full Moon played by Yangqin (dulcimer) and Zheng (many stringed zither-like instrument) with singing won the Peony prize at the 2nd China Ballad-singing and Story-telling The Heroes Loyal and Devoted to the Country, The Moon Reflected in Erquan Pool, Nostalgia, Horse Tender, I am A Matchmaker and Native Place Sentiment won the 1st prize at the National Ballad-singing and Story-telling Invitational Festival. Moon in the Dream, solo music played by Gaohu (Chinese Violin) and Clouds and Mountains in Spring played by Yangqin (dulcimer) won separately the best composition prize at the 3rd All China National Orchestral Music Awards Competition.
Since its founding, the Company has frequently appeared in Hong Kong and has visited the former Soviet Union, Rumania, Poland, Japan, the DPR Korea, Myanmar, the United States, Canada, England, Singapore and Australia.
The Company has a group of well-known Guangdong music players such as Liu Tianyi, Fang Han, Zhu Hai, Liang Qiu, Xiong Feiying, Yuan Miaosheng, Bai Yanzi, He Lifang, Huang shaomei, Tan Peiyhi, Li Danhong, Yang Da, Huang Junying, Tang Kaixuan, Chen Ruilin, Li Yanxi, Wu Guoping, He Kening, Huang Dingshi, Liu Guoqiang, Chen Lingyu, Liang Yurong, He Ping, Li Minghua and Cai Yan.
Address: No.17, Liushuijing, West Lake Road, Guangzhou, Guangdong Province
Post code: 510030
Tel: (020) 83332175
Fax: (020) 83338774