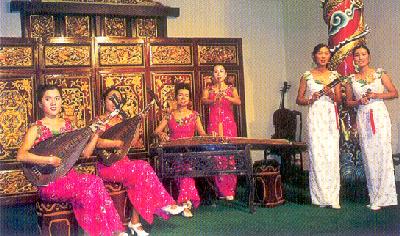 Xiamen Municipal Nanyue Ensemble
The origin of Xiamen Municipal Nanyue Ensemble was Xiamen Jin Feng Nan Yue Ensemble, which was founded in 1954.
Nan Yue is also called Nan Yin, Nan Guan etc.. It is one kind of ancient music of our country. So far it is more than one thousand years old and has the name of living fossil of music. Since the establishment of the Ensemble, the music works created by the Ensemble include Thanks to Prince, Qin Yuan Chun . Snow, The Long March, meeting at Lin Jiang Loou and Gate to Gate Between Xiamen and Jinmen; the instrument works Fisherman's Song of Ming Hai, Hearing of Cuckoo etc.. All these programs got many prizes in the competitions at national, provincial and municipal levels. In the provincial compactions, one member won one gold, five members won silvers and two members won bronzes. It visited Japan, Singapore and the Philippines as well as Hong Kong and Taiwan regions for guest performances and cultural exchanges. It also held Nan Yue concerts for the heads of governments and states, such as Ajino, former president of the Philippines, the queen of the Netherlands etc., and got high praises from them.
The Ensemble has a large number of excellent instrument players, actors and actresses, e.g. Woo Shian, Wang Xiuyi, Huang Jinhua, Ou Lihua, Wang Anna and Yang Kunyuan who have been well-known in the Southeast Asian area.
Address:  No.37, Nantian Xiang, Xiamen, Fujian Province
Post code:  361003
Tel:  (0592) 2025591