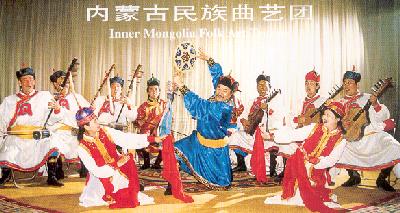 Inner Mongolia Folk Art Troupe
The Inner Mongolia Folk Art Troupe was set up in 1987 on the basis of the original Inner Mongolian Storytelling Group in Mongolian Language, which founded in 1957.
Over the years, the dramatic balladry troupe has excavated, collected and recreated more than 170 bal1adry programs, including eight kinds of Inner Mongolian balladry pieces. It has successively participated in the whole national dramatic balladry competitions and international competitions, and won more than forty awards including the first prize of special program and the top honorary prize of Wenhua Award, the Peony Award and '97 Mongolian International Humorous Art Festival. The stage balladry programs were famed for "the poetic masterpieces in the southern desert by their counterparts in China praised as the real yurt art by the local herdsmen. With increasing cultural exchanges, the Dramatic Balladry in 1989 and 1997, made guest performances in Mongolia twice, and caused a sensation there. For many years, it has received 320 cultural and art groups, experts and scholars for the studies of Mongolian, folklore and history from eighteen countries including the RO Korea, Japan, the former Soviet Union, Mongolia, Czech, France, Germany, the United States, Canada, Bulgaria, Sweden, Switzerland, Singapore, Myanmar, New Zealand, Pakistan as well as Hong Kong, Macao and Taiwan regions. With pure national amorous feelings and perfect performances, it has upheld the new look for Inner Mongolia and has been highly praised by the visitors.
At present, the Troupe has such leading artists as Balajienima, Lubusheng, Urigen, Uyun Sang and Jinbazamusu.
Address: No. 71, Xincheng Xi Jie Street, Hohhot, Inner Mongolia
Post code: 0100l0
Tel: (0471) 6963821