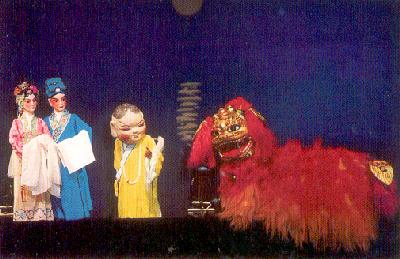 Puppet and Shadow Art Troupe of Hunan Province
The Puppet and Shadow Art Troupe of Hunan Province was founded in July 1956. It consists of a puppet troupe and a shadow play troupe.
The Troupe has toured the countries such as DPR Korea, Czech, Poland, the former-Soviet Union, France, Switzerland, Hungary, the former Yugoslavia, Mongolia, Romania, Germany, Vietnam, Iran, Australia, New Macedonia, Fiji, Japan, the United Stated as well as Hong Kong region. Its shadow plays won the Best Performance Award in the 3rd International Puppet Festival in Romania in 1965. Puppet show Gold Scale won the Honorary Award in the Australia International Puppet Festival in 1983. Puppet show Fire Cloud Bird won the Wenhua Award issued by the Ministry of Culture for New Theatrical Work in 1993. The shadow play Three Mice got the Wenhua Award for new program in 1997.
Currently, the major artists of the Troupe include Tan Qishu, Yu Zhaofu, Xiong Guoan and Li Guixiang.
Address: No. 452, Shaoshan North Road, Changsha City, Hunan Province
Post code: 410007
Tel: (0731) 5512916
Fax: (0731) 5535797