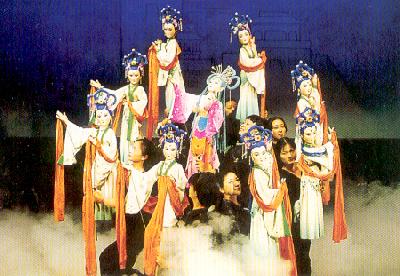 Yangzhou Municipal Puppet Troupe
The Yangzhou Municipal Puppet Troupe, formerly the Puppet Troupe of Taixing County and the Puppet Play Troupe of Yangzhou Region, got its current name in 1983.
The repertoire of the troupe comprises by a total of 35 programs including traditional puppet plays "Xu Ce Runs Through the City, "Mountain of Flames, The Birth of Zhu Bajie," adapted works "Cub Tiger Sells Melons," "Little Guards at the East Sea," "Monkey King's Three Attach on the White Bone Devil, Chang Er Flies to the Moon, "Nymph of Qiong Flower," "Clever Rabbit," "Cao Chong Weighs the Elephant, "Wu Song the Tiger-killer," "Emperor's New Clothes," "Little Girl Kills a Snake, "The Confused Three," and "Sima Guang Smashes the Water Vot to Save a Boy from Drowning." Catering for the need of international culture exchange, the art troupe has created some new programs such as "Ping-Pang Ball Brings Us Together," "Crane and Tortoise," "The Fatty and the Mosquito," "Puppet on the Wheels, "Dragon Dance," "Fan Dance," "Silk Ribbon Dance," and "Lion Dance Among them, " Goddess Chang Er Flies to the Moon" won the Performing Award of the National Puppet P1ay Competition; "Rooster with a Golden Cockscomb"(through videotape evaluation) won the second prize of the National Children's Puppet Play Award; The Confused and Wu Song The Tiger-killer (through video evaluation) won the National Golden Monkey Award. "Nymph of Qiong Flower won the Eighth Wenhua New Play Award, Wenhua Directing Award, Wenhua Music Award and Wenhua Performing Award.
The puppet troupe has toured many countries and regions including Japan, Iran, Australia, Pakistan, the United States, the Republic of Korea, Ecuador, Columbia, Bolivia, Peru, Spain, France, the Netherlands, Belgium, Italy, Russia, Hong Kong, and Taiwan. Between in six years, the troupe co-operated with a Japan art troupe staging the large-scale puppet play "Tales of the Three Kingdoms Period" in Japan with 940 shows and caused a big sensation there.
Website:  www.yzmo.com
Address:  No.271, Weiyang Road, Yangzhou, Jiangsu Province
Post code:  225009
Tel:  (0514) 87864250  87864251
Fax: (0514) 87860538