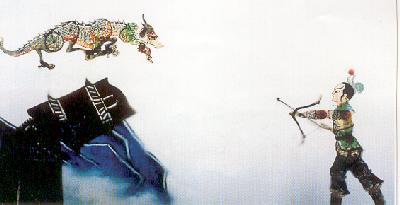 Tangshan Municipal Shadow Puppet Company
The Tangshan Municipal Shadow Puppet Company was founded in 1959. Formerly it was called the Tangshan Experimental Shadow Puppet Society under the East Hebei Military Region, which was formed with the Anti-Japanese Shadow Society, Great Wall Shadow Society and Luandong Shadow Show Society.
Its repertoire includes Generals Of Yang Family, General of Hu Family, General of Xue Family, General Yue Fei, The Water Margin, Five Summit Meeting, White Snake, Flaming Mountain, Cowherd and weaving girl, Twin Mountain Love, Crane Boy, The Moon Goddess Chang'er, A Lamb passing the Bridge, Crane and Turtle, Fox and Crow, Panda Mimi and etc. From the 1950's to 1990's, the troupe has taken part five times in the national performances organized by the Ministry of Culture. The shadow shows Three Attacks on the White Bone Devil, "Twin Mountain Love and Crane Boy won the 1st prize and awards for excellent performances. The Phoenix Film Studio of Hong Kong made a film adapted from the show Three Attacks on the White Bone Devil. In 1982, Qi Yongheng, a shadow show artist of the Troupe, was invited by UNESCO to deliver lectures to experts from 9 countries at the International Puppet Show College in France. In 1985, he was again invited to visit the US to play at the Disneyland. He also participated in the 8thWorld Drama Festival in Monaco and France, before taking part in the 7th World Puppet Show Festival. The company has visited Japan, Germany, Italy, Austria, Spain, the Netherlands as well as Taiwan and Macao regions with warm reception.
Address: No. 8, Jianhuaxidao Street, Tangshan, Hebei Province
Post code: 063000
Tel: (0315) 2822685
Fax: (0315) 2822685