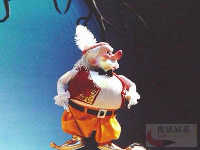 The China Puppet Show Troupe was founded in 1955. For more than 40 years since its inception, the troupe has produced over 300 performances, shot over 100 television episodes, including Da Lin and Xiao Lin, Wild Swan and six movies, such as Little Bell and Chinese Puppet Art. The troupe's key performances include traditional plays like The Monkey King Raises Hell in Heaven,Eight ImmortalsCrossing the Sea, Wang Xiao'er Beat Tiger, Piggy Bajie Carries Wife, Crane and Tortoise, Herd Cattle; modern plays like Red Flower on Grasslands, Midnight Rooster Crow, Magic Suona; and world-famous fairlytales, such as Wild Swan, Mermaid, and Puppet's Adventure.
Sponsored by the municipal government, the troupe's theater occupies an area of 5,000 square meters, with 636 seats. With advanced lighting and sound systems, the troupe specializes in performing both domestic and international puppet classics particularly for the youngsters.
Despite the sluggish market, the traditional puppet show stands out with an average box-office rate of 80 percent, which can be mainly attributed to the troupe's innovative creations. According to the manager, the key elements for the survival and development of the traditional form are the tailored creations for children. The China Puppet Show Troupe boasts a cast of seasoned playwrights of high professionalism. Currently, major artists from the troupe include Qiu Yingjun, Zhou Di, Zhang Xuelian, Liu Ji, Suo Wanjin, Zhang Shihua, Leng Fuji, Guan Jiangping, Hou Xianzheng and He Yuqin.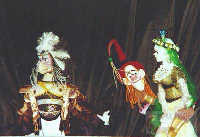 The sustainable development of a puppet show requires innovation and feedback from the audience. The China Puppet Show Troupe has always attached much importance to audience interaction and has brought forward many solid repertoires. Besides, the troupe has also opened up a door to young theatergoers, cultivating the imagination and creativity of the children. By inviting children to participate in manufacturing the puppets, or having a whole family perform on the same stage, the troupe has fostered a fixed group of clinging audiences.
The nightly performances tailored specifically for tourists from home and abroad have become a brand for the troupe, attracting a great number of tourist groups every year. Some repertoires, like the traditional classicsButterfly Loversand Crane and Tortoise, are particularly loved by foreign friends. Meanwhile, the troupe has adapted a large number of foreign classic novels and fairytales, bridging eastern and western culture by using small, vivid puppets.
The latest hit, Swan Lake features the world-famous story, and has already brought the troupe to a higher stage art.
Website:  www.puppetchina.com
Address: A  No 1, Anhua Xili, Chaoyang District, Beijing
Zip code:  100011
Tel:  (010) 64254847  64247085