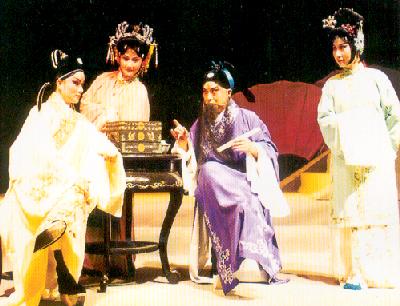 The Kunju Opera Institute of Jiangsu Province
The Kunju Opera Theatre of Jiangsu Province was founded in November 1977. The repertoire of the Theatre include about 20 programs such as "Peony Pavilion," "Zhu Maichen Divorces His Wife," "Peach Blossom Fan, "Xi Shi the Great Beauty ," "Love Story of Pipa, "Snowfall in June," and "Bloody Injustice." Among them, "Peach Blossom Fan and "Bloody Injustice won the Wenhua New Program Award issued by the Ministry of Culture, "White Robe was once staged at the Second China Art Festival.
Since 1980s, the Theatre has toured many countries and regions including Italy, Germany, Japan, France, Spain, the ROK, Finland, Hong Kong and Taiwan with great results. Well trained under the tutorship of Senior Kunju opera artists in 1960s and 1970s, the current mainstays of the actors have formed their unique style saturated with rich Wu culture.
The Theatre's talented artists in the fields of screenplay writing, directing, choreography, composition and performing include Zhang Jiqing, Zhang Jidie, Shi Xiaomei, Lin Jifan, Hu Jinfang, Huang Xiaowu and Zhou Shizong, who have successively won the China Drama Plum Blossom Award and the Wenhua Awards.
Address: No. 4, Chaotiangong, Nanjing, Jiangsu Province
Post code: 210004
Tel: (025) 4465873