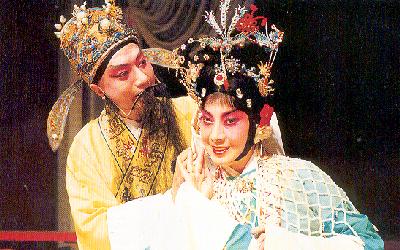 Shanghai Kunju Opera Troupe
The Shanghai Kunju Opera Troupe was set up in February 1978. The Company has won the performance prize, the repertoire prize and the creation prize at the National and Regional Competitions by presenting the following plays: Cai Wen Ji", "Emperor Taizong of Tang Dynasty", "Phoenix Hairpin", "The Peony Pavilion", "Jade Hairpin", Pan Jinlian", "Mounting on Lingshan", "The Palace of Longevity", "Sima Xiangru", "Stopping the Horse", "The Village of Hu's Family", "Stealing the Poem", Broken Bridge and "Catching Alive.
In 1983, the troupe went to Hong Kong to participate in the 8thAsian Art Festival and visited Hong Kong twice after that. After 1992, as the first local opera troupe, it went to Taiwan for the purpose of cultural exchange between the straits. For three times in 6 years, the Troupe was invited to perform in Taiwan and was warmly welcomed each time. The Troupe has visited the United State twice, Japan three times and visited Britain, Denmark, Sweden and Singapore.
The Troupe has 7 artists who won the Plum Blossom Awards of Chinese Opera, 10 artists who won the "Leading Role and "Supporting Role of White Magnolia performance Prizes of Shanghai Opera. Six artists enjoy the special government allowance.
The Troupe has many well-known artists such as Cai zhengren, Yue Meiti, Ji Zhenhua, Zhang Jingxian, Liang Guying, Fang Yang, Liu Yilong, Zhang Mingrong and WangZhiquan.
Website:  www.kunqu.sh.cn
Address: No.9, Shaoxinglu Road, Shanghai
Post code: 200020
Tel: (021) 64331935
Fax: (021) 64748272