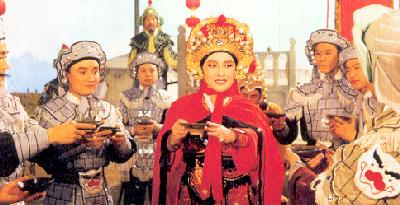 Longjiang Opera Experimental Theater of Heilongjiang Province
The Longjiang Opera Experimental Theater of Heilongjiang Province was set up in December 1959. The Longjiang Opera was developed from the song and dance duets and plays performed in the open at fairs, which are very popular in the area of Northeast China. It is a new type of opera making use of and absorbing the cream of other local operas and dramas. It eminently retains its own bold, unconstrained and humor characteristics in singing and dancing, and mixed with the elegant demeanor common in Chinese traditional operas, thus evolving into a Style of its own.
The Theater has presented Relatives of the Emperor, Zhang Fei Interrogates the Melon, Romance of the Iron Bow, Absurd Jia Baoyu, "The Story of Hua Mulan and many Other repertoire since its founding. Among them, The story of Hua Mulan, Absurd Jia Baoyu and Double-lock Mountain are acclaimed as the best Trilogy of Longjiang Operas.
The Theater has visited Japan, Singapore, Malaysia, the United States and Hong Kong region. Their performance enjoys high reputation in China and abroad.
In its development, the Longjiang Opera has brought up a group of artists with both ability and integrity. Bai Shuxian, Deputy Chairwoman of the China Dramatists' Association, well-known performing artist of Longjiang Opera, is the representative of this Opera. She won twice the Grand Wenhua prize awarded by the Ministry of Culture by playing the chief role in Absurd Jia Baoyu and The story of Hua Mulan, a film adapted from the Opera The Story of Hua Mulan won the Huabiao prize awarded by the Government and Expert's Golden Rooster prize. She has won twice the Plum Blossom prize of Chinese Opera, Wenhua performing prize at the National Theatrical Festival and the White Magnolia prize at the Shanghai Theatrical Festival. Other important artists of the Theater include: Grade l directors Li Fang and Sun Tieshi, Grade l performers Lu Dongmei and Han Shizhen and Grade 1 composer Chen Chenglan.
Address: No.114, Ashihe Street, Nangong, Harbin, Heilongjiang Province
Post code: 150001
Tel: (0451) 2542279