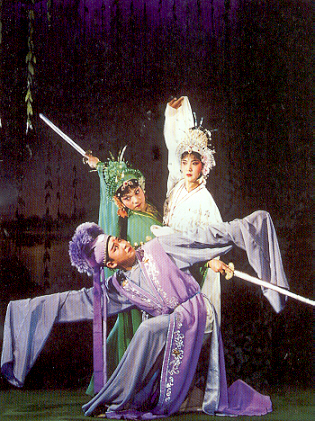 The Zhejiang Wuju Opera Troupe was set up on the New Year's Day of 1956. Since its founding, the Troupe has rescued and explore the traditional legacy of Wuju Opera, more than 800 small and large programs on the repertoire, collected more than 3,000 titles of vocal music and tunes, collected and collated the unique traditional facial makeup and costume designs of Wuju Opera, thus preserved a great number of precious materials of this traditional art. At the same time, the Troupe has created, rearranged, sorted out and put on the stage many excellent repertoire programs such as "The Gold Seal", "The Story of Delivering Rice", "Inviting Lihua for The Third Time, The Plum Blossom in the snow", "The Broken Bridge and "A Gathering of Monks and Nuns".
Now the Troupe has 30 repertoire programs ready for show. Many of them have won the prizes at national, regional and provincial joint presentations. Among them, "Xishi's Tears was made into a film by the Changchun Film Studio in 198l and was awarded the Best Film of Traditional Opera at the 5th Xiaobaihua Competition sponsored by the Studio. The rearranged play "The Former Story of White Snake Started something new in its presentation, and received praises from the Experts of china and abroad. The troupe has visited Japan, Singapore, Romania as well as Hong Kong region in recent years.
In the early days after founding, the-Troupe had the well-known artists Xu Dongfu, Zhou Yuexian, Xu Ruying and Zhou Yugui. In the later years, there emerged a group of famous actors and actresses who achieved great successes and had important influence like Zheng Lanxiang, Wu Guangyu, Ge Suyun and Yan Zonghe. In 1970s and 1980s, the Troupe had trained and brought up many young talents like Chen Meilan, Zhang Jianmin, Chao Shuzhu, Zhu Yuanhao, Zhou Zhiqing, Miao Nen, Tong Zhigang, Liu Zhihong and Huang Weilong. Among them, Chen Mei1an and Zhang Jianmin had the honor to win the Plum Blossom Award at the 6th and l0th National Drama Festivals respectively. The Troupe was entitled the First Grade Theatrical Troupe by the Cultural Bureau of Zhejiang Province.
Website:  www.wuju.cn
Address: No.80, Maluli, Jinhua City, Zhejiang Province
Post code: 321000
Tel: (0579) 82307350
Fax: (0579) 82312486