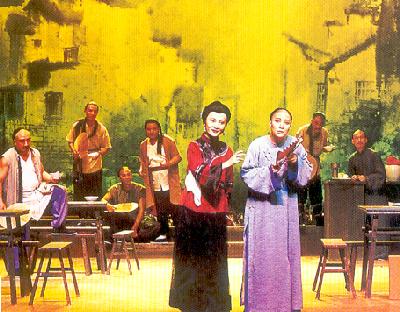 The Zhejiang Yueju Opera Troupe was founded in May 1952. Since the establishment of the Troupe, the artists of several generations have received heaps of fruits from hard work." Story of west Chamber", The Peacock Flies to Southeast", "The Jinsha River Bank", "The Dagger society", "Rouge", "An Unusually Lucky Girl etc. were staged one after another. In September 1991, the staged modem opera "Qiao Feng" which reflects a people's teacher helping an orphan become a useful person, won the prize of The Third wenhua Award issued by the Ministry of Culture In October1994, the modern opera "Golden Phoenix and Silver Swallow was put on the sup, which reflects how contemporary tax collectors endure humiliation in order to carry out a tax mission for the country .
In September 1991, the Film and Television Department of the Troupe was set up. It produced nine opera teleplays to taling forty-five parts, e.g. "The Love of Emperor Han Wu", "Madame Justice", one Bird with Nine Lives", "The Qiu's Daughter", "An Unusually Lucky Girl", "Bloody Qinfeng Stone", "Qiu Jin", "Chen Sanliang" etc. All of them won the first or second prizes on the National Review of Opera Teleplays. Eight of them won the Chinese Teleplays Feitian Award. "Qiu Jin" also won the first prize for 12 items in other national artistic contests. In October 1997, a large-scale modern opera of Yueju "The Actual Feelings in Commercial City" was put on the stage which reflects how contemporary industrial and commercial cadres handle cases impartially, help female unemployed to be re-Employed. It won the prizes for ten items at the Seventh Zhejiang Province Opera Festival. In October 1998, the Troupe and Mao Weitao Studio jointly created and performed a large opera of Yueju "Kong Yiji, and caused strong social repercussions.
The Troupe has such leading artists as: Yu Shangxiao, Zhou Yunjuan, Li Li, Song Shunfa and Wang Binmei.
Address: No.279, Yananlu Road, Hongzhou, Zhejiang Province
Post code: 310006
Tell: (0571) 7081938