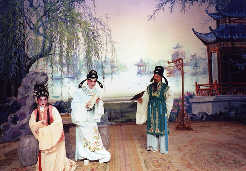 The Shenzhen Yueju Opera Troupe is a performing body that has grown up alongside the Shenzhen Special Economic Zone. The troupe is not only very highly reputed by opera circles in Guangdong Province, but also all over the country, especially in overseas Chinese societies.
In recent years, the Shenzhen Yueju Opera Troupe has been advancing with the times by endeavoring to innovate artistic creations with a down-to-earth spirit. With reform as the momentum for the advancement, the troupe has made noticeable contributions to carry forward Yueju Opera.
The objectives of the ensemble are to create repertoires of high artistic value and to serve society. A group of excellent new plays, like "Person Back Home in Snowing Evening" and "Feeling for Zhongying Street" were put on stage as a result. All of these operas have also been showered with a series of national prizes.
In 2000, the troupe reformed its human resources policy to realize a substantial change in the distribution mechanism, which boosted the enthusiasm of the staff members and made artistic productions more lively and creative.
The troupe has taken effective measures to nurture new stars. Since seniority was not necessarily top priority, young talents with great potential became very prominent. As a result, the troupe does not only boast a galaxy of stars like Feng Gangyi, who has won the "Plum Blossom Prize" twice, but also Huang Weikun, a nationally renowned actor, and Sui Chunmei, Li Weichang, Huang Weixiang, Chen Shicai, and Xing Yunjiang. The troupe also boasts a group of young and enthusiastic talents bursting with youthful spirit.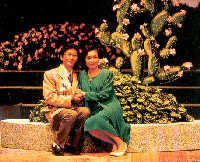 The troupe's stage art design is known for its innovative design with advanced light and acoustics equipment that ensures a high quality in artistic production.
The troupe has accumulated a series of plays that have won universal praise, such as "Baoyu and Qingwen", "Lubu and Diaochan" and "Su Xiaoxiao in Qiantang". As a professional local opera performing troupe, it boasts a complete set of repertoires -- both ancient and modern, tragic and comedic.
Address: No 177, Fenghuang Road, Shenzhen, Guangdong Province
Zip code: 518003
Tel: 0755-25548718