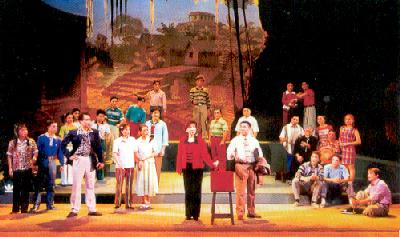 The Guangzhou Yueju Opera Troupe, formerly known as the Guangzhou Youth Catonese Opera Troupe, was founded in 1983 with Hong Xiannv, the well-known Cantonese Opera artists as its first chief art director. Since its founding, the Troupe has staged a number of plays of various style include White Snake, Daughter of the Heaven (adapted from Shakespeare's Merchant of Venice), Fragrance of Daughters, Wu Qi and the Princess and Wedding Night by the Taihu Lake. The troupe staged the opera King Rui and Imperial Concubine Zhuangfei which was awarded 9 grand prizes at the Guangdong International Art Festival in 1995. In the autumn of 1997, it put on a modern Cantonese opera Love of the Land and won 6 prizes of the Cao Yu Drama Award for the best play, performance, principal and supporting actors and vocal music.
The troupe has toured the U.S.A., Canada, Singapore, Japan as well as Hong Kong and Macao regions. Particularly since 1995, its has made a succession of three tours to Singapore and the U.S.A. with great success and has been praised as the Best Cantonese Opera Troupe in China.
The troupe boasts such the first grade artists as Ni Huiying, a Plum Blossom Award winner, and Lian Yaoan who is famous for both singing and martial art performance. Its second grade artists with their distinctive style include Li Ziqiang, Zhang Deming, Tan Zhiji, Ye Biyun, Deng Jieling, He Yuqing and Sun Yehong. Its famous musicians include Chen Zhuorong and Huang Jian.
Address: No. 12, Guihuagang No. 1 Street, Jiefang North Road, Guangzhou City, Guangdong Province
Post code: 510405
Tel: (020) 86235437
Fax: (020) 86231083