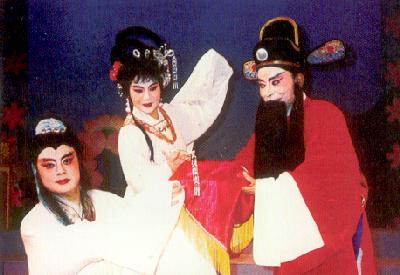 The Guangdong Chaoju Opera Theater was established in 1958 on the basis of the former Guangdong Chaoju Opera Troupe.
In its early days, the theater created a number of excellent operas, such as Lady Chen Sanwu, Lady Su Liuniang, Farewell Islet, Book of Defense, Reunion and Hairpin. In recent years, it has made spectacular achievements in staging new productions, such as Zhang Chunlang Cutting off the Hairs which won high acclaim during the 1st China Art Festival and was made into film. Yuan Chonghuan won the state award for excellent script. Lord Chen Selecting His Son-in-Law won the 4th Wenhua Award for new play and script and the provincial Quality Art Work Award. Its Zhongnan Soul, Yue Yinping and Frontier Romance won various prizes in the provincial art festival. The opera Veteran Returing Home was nominated for the script of China Cao Yu Drama Award. The theater has toured Singapore, Thailand, France, Australia, Vietnam, Cambodia, the U.S.A. and other countries as well as the regions of Hong Kong, Macao and Taiwan.
Major artists of the Theater include first grade performers Yao Xuanqiu, Zhang Chuangcheng, Chen Xuexi, Fang Zhangrong and Zheng Jiangying; second grade performer Chen Qinmeng; first grade playwright Li Zhipu; first grade director Wu Feng and first grade choreographer Guan Shanyu.
Website:   www.chaoju.com
Address: No.24, Li'an Road, Shantou City, Guangdong Province
                 No. 6, Chaohu Road, Shantou City, Guangdong Procinve
Post code: 515021
Tel: (0754) 8272283    8112149    8114510
Fax: (0754) 8279684