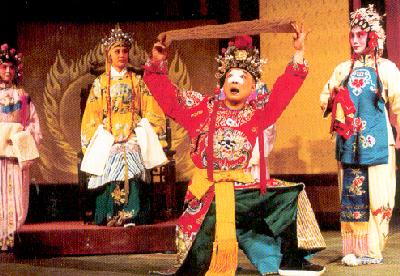 Peking Opera Theater of Hubei Province
The Peking Opera Theater of Hubei Province was founded in September, 1970. Its original name was Hubei Provincial Peking Opera Troupe.
Since its establishment, the Theater has put on more than 100 traditional theatrical pieces. Among them, a large number of excellent traditional theatrical pieces such as Women Generals of the Yang Family, Yu Tang Chun, Qun Jian Hua, Yang Si Lang Visits His Mother, Sacrifice to the River, Expedition Against Zidu, A Woman Kills Four Families and Eighteen Arhats Receive the Roc have been performed permanently and have become the repertoires. The excellent theatrical pieces A Packet of Honey, A Note of Xu Jiujing's Promotion, A Legend of King Medicine Temple, Plasterer Zhang and The Sketch of Temple Priests won fifty prizes of Wenhua Award issued by the Ministry of Culture, Chinese Dramatists' Association, the former Ministry of Radio, Film and Television, silver award of Cheng Changgeng, first prizes of excellent performance for excellent creation, excellent director and excellent acting of Feitian Award, Plum Blossom Award, Music Design Award and the top prize of Qu Yuan Award for Hubei Provincial Literature and Art. The Theater participated in the competition on the China Opera Art Festival twice, three theatrical pieces won separately silver prize of Cheng Changgeng, the prize of excellent theatrical pieces and the prize of the program. It was chosen to participate in the Television Award of the National Peking Opera for the Middle-aged and Youth held by the former Ministry of Radio, Film and Television twice, Zhu Shihui, Yang Zhifang won Mei Langfang golden award and Cheng Heping won the nominate award. The Theater was praised as A strong group of creation. It was invited to make guest performances in Austria, the United States as well as Hong Kong, Taiwan regions. The performances gave the audiences a deep impression and were praised by local media for brilliant singing and dancing, warm atmosphere, suiting both refined and popular tastes, crazy about the Peking opera funs.
At present, the Opera Theater has the leading artists: Yu Xiaoyu, Xue Lu, Zhu Shihui, Yang Zhifang, Li Chunfang, Guo Dayu, Tian Shaoping, Oyang Ming and others.
Address: No. 6, Jiedaokou South Road, Wuhan, Hubei Province
Post code: 430070
Tel: (027) 87882531  87863239
Fax: (027) 87863031