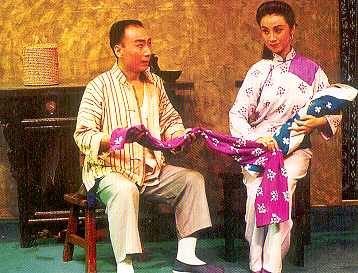 Peking Opera Theater of Shandong Province
The Peking Opera Theater of Shandong Province, originally known as Shandong Experimental Peking Opera Troupe, was founded on May 1, 1950.
Its repertoire includes Execution of Chen Shimen, the trilogy of Defending the Country, Visting the Royal Tomb and Twice Entering the Palace, Reconciliation of the General and the Prime Minister, General Yao Qi, Silang Visiting His Mother, The Horse with Red Mane, Yu Tangchun, Pavilion Overlooking the River, The Imperial Concubine of Han, Mirror of Happiness and Longevity, Black Whirlwind Li Kui, Eliminating the Three Evils, You Sisters of the Red Mansion, The Match-maker,  Dragon and Phoenix Presenting Good Luck, Wu Zixu, Attack on Dengzhou, Havoc in Heaven, 18 Arhats Fighting the Monkey King, Cutting the Big Jar, Hu Family Castle and Yangdang Mountain. In 1964, the Theater created and staged the Surprise Attack on White Tiger Regiment and Red Sister-in-Law, which were also made into films. The opera Shilong Bend won a bronze prize at the Cheng Changgeng Award at the 1stChina Peking Opera Art Festival in 1995 and the Wenhua Award for new play of the Ministry of Culture in 1996. The Theater has visited Japan, Singapore, India, Burma, Spain, Portugal and the regions of Hong Kong and Taiwan presenting the art of Peking Opera.
Its performers have won many prizes at national and provincial contests. Xue Yaping, a well-known actress, won the 8thPlum Blossom Award, the Ten Best Peking Opera Performers' Award and Mei Lanfang Gold Prize Award to Eight Best Female Role Performers. She also won the 14thMost Outstanding Asian Artists Award presented by the US Lincoln Art Center and the American Chinese Art Association in 1994. Song Changlin, a student of Fang Rongxiang, won twice the Prize for Best Peking Opera Performers' TV Contest. Fu Zhenghong won the 6thWenhua Award for best performance issued by the Ministry of Culture. Ju Xiaosu won the 13thChinese Opera Plum Blossom Award.
Major artists of the Theater include first grade performers Song Changlin, Ju Xiaosu, Fu Zhenghong, Wei Huili, Zhou Mingren, yang Zhigang, Zhang Baozhi, Zhang Xiuying, Cheng Qing and Bai Yunming; second grade performer Liu Jianjie.
Address: No. 38-1, Lishan Road, Jinan City, Shandong Province
Post code: 250013
Tel: (0531) 86954831