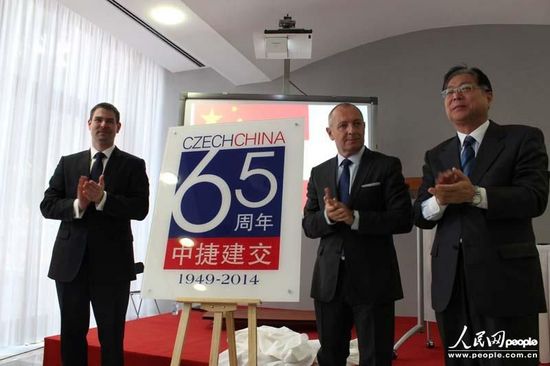 The 65th anniversary of Sino-Czech diplomatic relations was marked in 2014.[Photo/People.com]
A series of cultural events put bilateral relations to a new level amid the 65th anniversary of Sino-Czech diplomatic ties. Organized by the embassy of the Czech Republic in Beijing, a variety of activities earned high praise in Beijing and built a cultural brand that has fuelled the mutual understanding of two peoples.
Art Exhibitions
A special art exhibition themed "Se Ji Shi Kong" (meaning "form is emptiness", a traditional Buddhism philosophy) was held at the Czech embassy on Nov 29. Four artists from the two countries explored and exchanged their understanding and ideas on diversified art forms. Czech photographers Jan Saudek and Vladimir Židlický presented their well-known works and vividly showed the artistic inspiration of female bodies. Meanwhile, Chinese artists Man Kaihui and Wu Desheng displayed their unique graphics and exquisite jade carving pieces. Visitors also were given the opportunity to see the masterpiece The Eight Immortals Crossing the Sea for the first time. Different artistic pursuits and styles and various cultural expressions made the exhibition truly inspiring.
The Embassy of the Czech Republic to China has been developing "Embassy Art" cultural projects for four years. So far it has witnessed more than 20 exhibitions and relevant cultural activities.
Czech Ambassador to China Libor Secka said, the "Embassy Art" project aims to integrate the artistic charm and power of different individual artists so that mutual understanding can be enhanced.
"What we are trying to do is to get the peoples from two countries closer to each other by using the power of culture," Secka said.