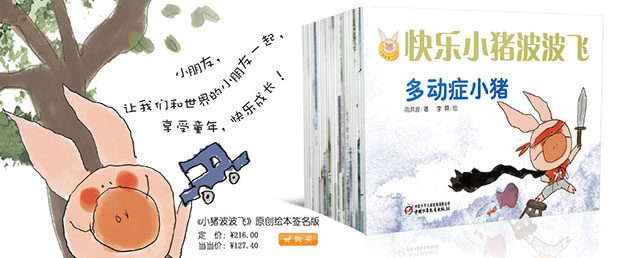 With 24 volumes in this immensely popular series, little Piggy Joey is clearly a hit!
Groupe Média-Participations (a leader in the French animation industry) signed a cooperative agreement with China Children's Press & Publishing Group (CCPPG) to introduce the Chinese comic books, Happy Piggy Joey Series, on Nov 22 at the 2nd China Shanghai Children's Book Fair. The French side also agreed to bring the Chinese animated figure to the screen and develop related products.
The Happy Piggy Joey Series was jointly created by Gao Hongbo, a children's literature writer, and Li Rong, an illustrator of children's books. Joey the happy piglet gained great popularity among domestic readers and the books also have been exported to France, South Korea and Vietnam. This China-France agreement will surely promote Chinese childrens books abroad.
We Recommend: