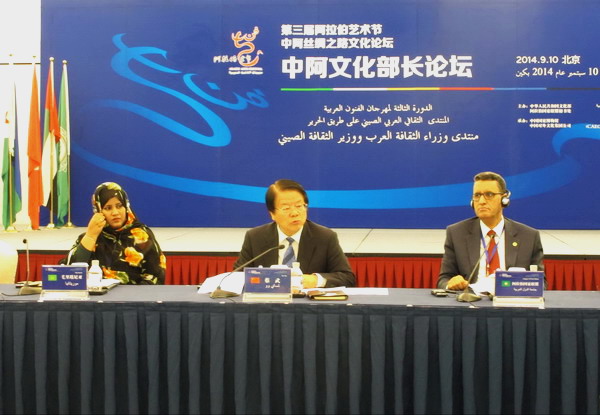 Chinese Minister of Culture Cai Wu gives a keynote speech at the forum of culture ministers from China and the Arab world, at the National Museum of China in Beijing on Sept 10, 2014. [Photo by Wen Yi/Chinaculture.org]
We, the culture ministers and minister representatives from China and member states of the Arab League, at the gracious invitation of the Culture Ministry of the People's Republic of China, gathered here in Beijing at the start of the China-Arab Friendship Year of 2014 and 2015, to attend the China-Arab Ministers Forum of the third Arabic Arts Festival under the framework of China-Arab Cooperation Forum, co-hosted by the Chinese Ministry of Culture and the Arab League Secretariat.
In accordance with the consensus of the China-Arab Culture Ministers Conference in 2006 and 2010, we had extensive and in-depth discussions on China-Arab cultural exchanges and cooperation, reaching the following consensus on issues commonly concerned:
We all agree that peace and development are two major topics in the world today. Chinese and Arab civilizations, both boasting their time-honored history and splendid culture, have made remarkable contributions to human progress and world prosperity. China-Arab exchanges and cooperation, as well as the dialogues between these two civilizations, serve as a great boost to the mutual understanding and friendship of people from different regions and to the realization of world peace, stability and development.
We realize that the strategic conceptions of the "Silk Road Economic Belt" and the "21st century Maritime Silk Road", put forward by the Chinese government, are of profound historical foundation and great realistic meaning. China and Arab countries are important countries along the Silk Road, and their natural partnership of constructing "One Belt and One Road" has a solid public opinion foundation. Under ever-changing international situations, China-Arab cultural exchanges and dialogues among civilizations will make a positive contribution to advancing the spiritual connections between Chinese and Arab people, deepening mutual understanding and friendship, and establishing a new China-Arab strategic partnership.
We would love to dedicate ourselves to promoting China-Arab cultural exchanges and dialogues among civilizations, deepening mutual understanding and appreciation, intensifying the communication and cooperation among Chinese and Arab cultural organizations, promoting cultural exchanges among Chinese and Arab artists and artistic groups, and encouraging Chinese countries to set up more cultural centers in Arab countries and vice versa.
Looking ahead, we firmly believe that China-Arab exchanges and cooperation will make more contributions to maintaining world culture diversity, boosting and strengthening China-Arab traditional friendship, and promoting the prosperity of human civilization.
The declaration was passed in Beijing, China on Sept 10, 2014.
Translated by Song Han
Sepecial Coverage: