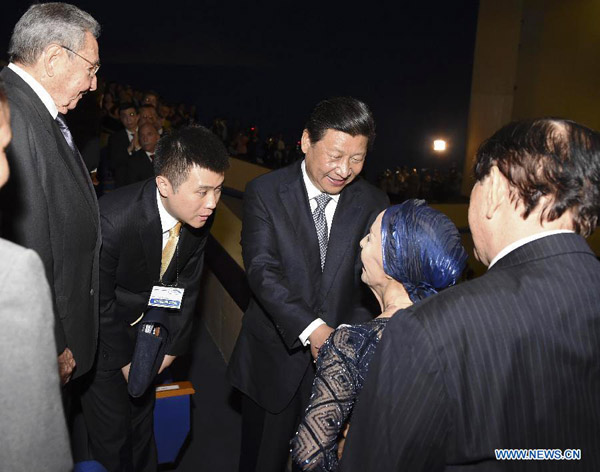 Chinese President Xi Jinping (C) and Cuban President Raul Castro (L) watch a ballet performance by Chinese and Cuban dancers in Havana, capital of Cuba, July 22, 2014. [Xinhua/Li Xueren]
Chinese President Xi Jinping's tour to Latin America has brought an opportunity for two cultural traditions to create more active dialogue and bridge the great ocean that separates them.
In Havana on Tuesday evening, the last stop of his Latin America trip, President Xi enjoyed a ballet performance by Chinese and Cuban dancers with Cuban President Raul Castro.
The program featured a special dance created by 93-year-old Cuban ballet legend Alicia Alonso that paid tribute to Chinese culture. Titled "Dancer," the performance incorporated the passionate and dramatic Cuban Ballet with the skills of Chinese Peking Opera accompanied by ancient Chinese music.
Twelve hours before the ballet show, at a concert in Beijing, musicians from China's Central Conservatory of Music used traditional Chinese musical instruments such as the erhu to play Peruvian folk music.
At first glance, Chinese and Latin American cultures could not be more different, with stereotypes of conservative and introverted Chinese versus outgoing and dramatic Latin Americans.
However, as President Xi noted, Chinese and Latin Americans share a natural affection, despite the long distance from each other.
They share a similar destiny, as both are ancient cultural traditions struggling to fit into a modern world while trying to maintain their own identities.
On the other hand, the differences between the cultures may be what attracts them to each other.
Many Chinese are interested in Latin American art. Xu Xuanyi, a Beijing woman in her late twenties, is not a professional dancer but became one of the founders of the Chinese Association of Argentine Tango and competed in the World Tango Championship in Buenos Aires last year.
Several months ago when Colombian writer and Nobel laureate Gabriel Garcia Marquez passed away, many Chinese mourned his death and voiced their love of his works.
We Recommend: