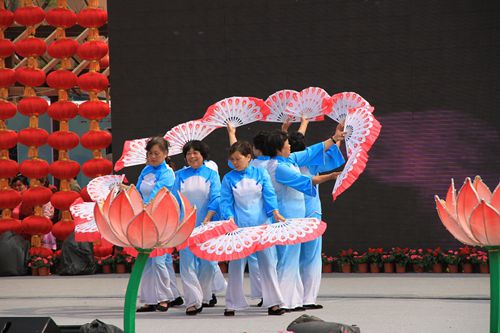 Boatman Art Troupe of Zhujiajiao Town [Photo/sh.gov.cn]
FOR teenagers, summer is a synonym for playing games and watching TV, but for parents, summer is a battle to keep their children from becoming addicts.
This summer, the ongoing Shanghai Citizens Art Festival provides a variety of cultural events for local families in hopes of enriching the summer vacation. The festival, in its second year, was launched in March and will offer more than 1,000 events throughout the year.
Shanghai Oriental Art Center has launched a series of performances that invite the whole family to come and enjoy.
On July 17, the Black Light Theater from Czech will present "Mysterious Magic World" at the art center in Pudong.
As one a famous performance style in the country, black light theater is presented on a dark stage, but the actors are dressed in fluorescent costumes to create dazzling illusions. Using upbeat music, humorous gestures, and cutting-edge technology, the show breaks the boundary of language and brings visual pleasure to viewers.
Meanwhile, ballet artists from Russia will refresh the audiences in Shanghai with a stunning ice ballet, "Swan Lake," from August 15 to 17.
The show will incorporate Chinese acrobatic elements into its plot and choreography. The performers will showcase their elegant dance moves while they are gliding on ice.
We Recommend:
| | | |
| --- | --- | --- |
| | | |
|  Beautiful scenery along China's Grand Canal | |  Red Yao ethnic people in Guilin celebrate 'clothes drying festival' |