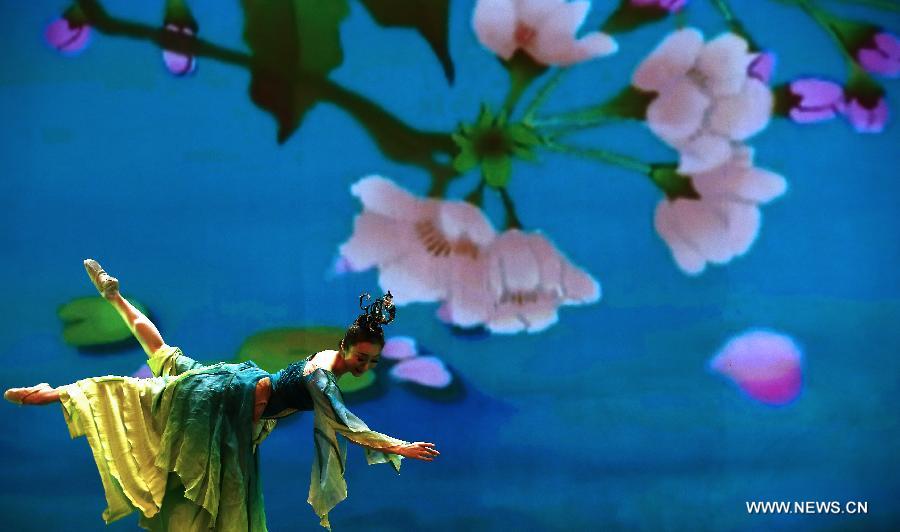 Shan Chong dances during the "Cultures of China, Festival of Spring" performance in London, Britain, Feb. 3, 2014. (Xinhua/Yin Gang)
"Cultural China, Global Spring" Art Troupe on Monday evening celebrated the Chinese Lunar New Year with Chinese in Britain with great performances in London.
The show was put on the stage at the over 200-year-old Lyceum Theatre, home to the musical theatre version of The Lion King since 1999. Liu Xiaoming, Chinese Ambassador to Britain and Chinese people from all walks of life in Britain attended the performance.
The 2,100-seat theatre was packed with Chinese audiences and foreigners, while the Chinese folk songs, classic dances, magic, China's traditional talk show, traditional instrument performance and acrobatics performed by the art troupe gained a lot of applause.
"The show is great, and I like the talk show so much. It's really funny and I hope the troupe will bring more talk shows in the next year," said Liao Xiuqin, who lives in London.
Liao said the classic songs were very familiar with, so she couldn't help to follow the rhythm and whisper the songs.
"The singing is fabulous. It's very different from the Western opera. Although I cannot understand the lyrics, I can feel that Chinese on the site are thinking of China," said Andrew Earnshaw, a Britain audience.
Organized by the Overseas Chinese Affairs Office of the State Council of China, and as one of the series of activities of "Cultural China", the performances of "Cultural China, Global Spring" have been staged in about 30 countries and districts out of China since 2009. It performed various of shows for overseas Chinese people for Spring Festival celebration.
We recommend:
Special Coverage: