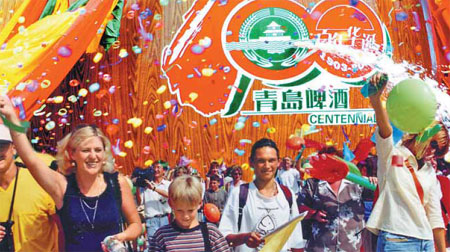 The Qingdao International Beer Festival is the largest beer gala in China. Provided for China Daily
Setting and infrastructure fuel international galas, Xie Chuanjiao reports.
Qingdao's exhibition and convention industry is gearing up to become the coastal city's new growth engine, according to a senior trade official.
Feng Wenqing, chairman of China Council for the Promotion of International Trade Qingdao Sub-council, said this is thanks to the city's well-developed hospitality infrastructure, service sector and good environment as a tourist destination.
The city's exhibition industry has developed rapidly since China embarked on reform and opening-up, added Feng, who is also head of the Office of the Leading Group for the Convention and Exhibition Industry Development of Qingdao.
"Starting from scratch, we have maximized the economic benefits of the MICE model (meetings, incentives, conventions and exhibitions), and made it a driving force for the transformation of the city," he said.
Combining MICE and brand-related events, Qingdao's exhibition industry has become a fast-growing sector with a promising future, Feng said.
The city has hosted more than 1,100 trade shows, conventions, and festivities over the past decade.
In 2013, Qingdao hosted nearly 200 exhibition events. Around half of these were international exhibitions targeting both domestic and foreign guests.
The city's income from its exhibition industry reached 9 billion yuan ($1.44 billion) in 2013, and Qingdao was ranked among the top 10 most influential exhibition cities in China.
We recommend: