Bright yellow imperial dragon robe from the Guangxu period (1875-1908)of the Qing Dynasty Photos: Courtesy of Christie's and Council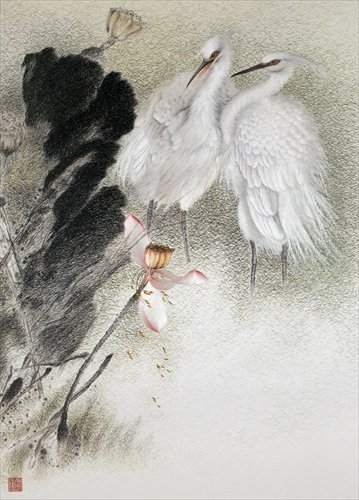 Su embroidery The Lotus and the Crane by Sang Xingyun Photos: Courtesy of Christie's and Council
Compared to its brilliant artistic and cultural history, the current prospects for Chinese silks seems very dim. This is especially true on the auction market where silks haven't been enjoying as much popularity as other historic valuables such as jade or ceramics. While the prices of the latter two can easily break the 10 million yuan ($1.6 million) threshold, the market is still somewhat miserly when it comes to the value of historic Chinese silk products.
A little noticed imperial legacy
Even top historical silk items like imperial dragon robes, or long pao, which were worn by emperors in different dynasties, as well as certain other members of the royal family, are often overlooked on the auction market.
"Unlike the rising popularity of some art work categories over the past decade, price increases for antique Chinese imperial dragon robes have been relatively stable," said Dai Dai, an expert from Christie's department of Chinese ceramics and works of art.
During Christie's Hong Kong Spring Auction, which is scheduled to be held May 24-28, a special auction will be held exhibiting nine different imperial dragon robes made during the Qing Dynasty (1644-1911). This is somewhat a rarity for auctions in China or overseas and the British auction tycoon hopes to use this event to elevate the prices of historic silks to a new high.
Back in 2008, the going market price for ancient Chinese imperial dragon robes was no more than $100,000. This year, these same dragon robes collected by Christie's from an American collector are being given estimated prices ranging from HK$ 800,000 ($100,000) to HK$ 3.5 million ($450,000).
"Actually, silk items don't just sit within a low price range in the auction market, they also receive little attention within academic circles as well," said Zong Fengying, an expert in silk textiles at The Palace Museum in Beijing. "However, these items are extremely culturally significant."
According to Zong, among the various imperial robes made through the centuries, those made from bright yellow silk are the most valuable. During the Ming (1368-1644) and Qing dynasties, only four types of people were entitled to wear the yellow dragon robes: emperors, empresses, empress dowagers and imperial noble consorts (the highest rank among the emperor's concubines).
Examining the color of the robe is just the first step in identifying its owner and its present day monetary value. The techniques used in its embroidery, of which Su embroidery (referring to the embroidery techniques originating from Suzhou in Jiangsu Province) is considered by experts to be the finest, the number of cultural symbols on the robe, as well as the design and nature of the dragons on the robe are all key factors.
"Twelve traditional symbols, including the sun, the moon, mountains, fire, an axe and others only ever appeared on the emperors' robes," said Zong. "The single exception being the robes worn by the Empress Dowager Cixi (who ruled China in all but name during the last quarter of the Qing Dynasty), on which we can also find these 12 symbols."
Regaining popularity
Despite bearing the glory of an imperial heritage, dragon robes lag far behind in price compared to other imperial items such as imperial jade seals. The highest auction price for the latter category can be attributed to a seal belonging to the Qianlong period (1735-96), which was auctioned at the price of NT$ 430 million ($14.3 million) in 2010. Meanwhile, the highest record for an imperial dragon robe is currently only HK$ 2 million ($250,000), also an item from the Qianlong period.
The cold shoulder imperial dragon robes have gotten from the auction market actually mirrors the situation facing silk products as an overall category.
"Silk products are presently a neglected category in the art market," said Gan Xuejun, president of Huachen Auctions in Beijing. The company has held special auctions for Su embroideries for the past two consecutive years.
"The auction results for Su embroideries have been very unsatisfying," said Gan. "It's actually very unreasonable when you compare it to their cultural and artistic value," he told the Global Times.
As a locally based auction house, Huachen's experience reflects the lack of enthusiasm local collectors have towards silk products, and also falls in line with what Christie's has experienced at its auctions.
"For now collectors of ancient Chinese silk items have been mainly foreigners," Dai told the Global Times. This is reflected in the fact that the nine dragon robes to be presented by Christie's were all purchased from an American collector.
Besides dragon robes and Su embroideries, K'o-ssu, a type of Chinese silk tapestry that first appeared in the Tang Dynasty (618-907), has been treated a little differently by the market. Thanks to the very limited number of quality K'o-ssu items, this category reached its prime a long time ago.
As early as 2006, a Qing Dynasty imperial rosewood screen with an imbedded K'o-ssu silk design was auctioned at the price of 85.33 million yuan ($13.5 million) in Macao by a Shanghai auction house, setting a record high price for K'o-ssu silks that has yet to be beat.
"We see few K'o-ssu silks on the market nowadays, but each time they appear on the auction market, they attract quite a lot of attention," said Gan.
The high position that K'o-ssu silks are enjoying today, will hopefully provide auction houses with some guidance as how to best guide the future development of silk items in the market.
"The high cultural, academic and aesthetic value of Chinese silks will most assuredly allow them to reach market prices that accurately reflect their true value," said Dai.
 We recommend: