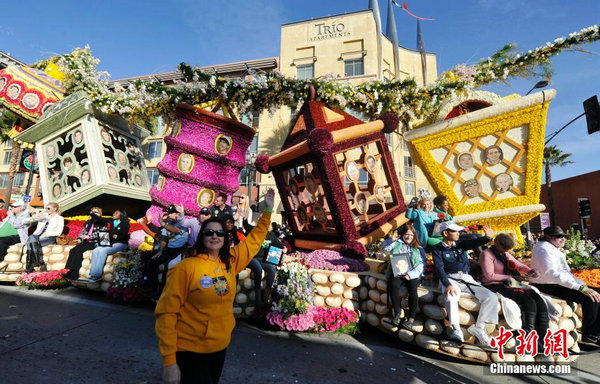 The 125th Tournament of Roses Parade was held in US western city of Pasadena on January 1st.(CNS/ Mao Jianjun)
The 125th Tournament of Roses Parade, under the theme of Dreams Come True, was held in US western city of Pasadena in Los Angeles county on January 1st.
The parade was declared to begin by the famed baseball games broadcaster Vin Scully, 86, who was chosen to lead this year's parade.
"Let's start the parade," he told the excited crowd.
The parade featured 45 floats covered in thousands of flowers, 20 bands and 16 equestrian units, which marched on the route down the Colorado boulevard.
Tens of thousands of people lined along the streets to participate in the annual event, some of whom camped out overnight to earn front-row seats.
Some 85,000 seats along parade route were crowded with people.
A Chinese featured float, showing two winged horses that soar over rooftops and lush gardens, was designed to mark the coming Year of the Horse, according to the Chinese Zodiac.
It attracted eyes of many people and won the Extraordinaire Award for most spectacular float.
Two men, having exchanged vows atop a 15-foot cake-shaped float, held their wedding ceremony during the parade, the first same-sex wedding in the history of the Tournament of Roses Parade. Spectators clapped their hands, cheered and voiced their wishes to them.
Six United States Air Force Thunderbird jets precisely flew over the spectators.
"It is unquestionably one of the most unique events in the world," said Paul Holman, a volunteer who served the parade for more than 30 years.
"I really love it! It's worthy of my waiting," said Nancy, an eight-year-old girl who camped on the roadside with her family the day before the parade.
We recommend: