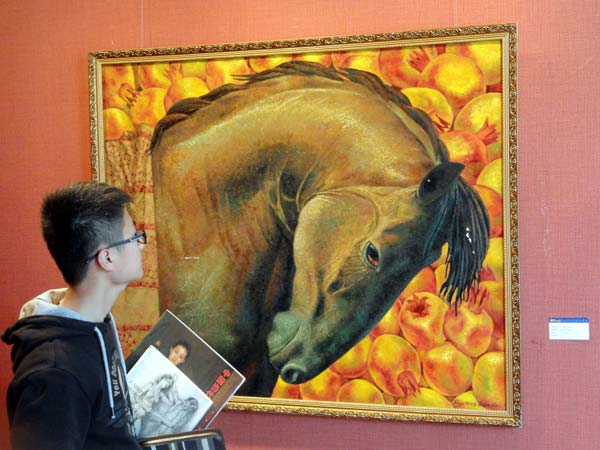 visitor admires a painting by an Uzbek artist at an exhibition in Suzhou, Jiangsu province, in March. Seventy-one paintings by seven artists were on display, showcasing the folk customs and culture of Uzbekistan. Wang Jiankang / for China Daily
"China was the starting point of the Silk Road, so how come you know less about the road than me?" asked Sobirov Shukhrat, a 19-year-old working at a hotel in Tashkent, after he discovered my insufficient knowledge of the hotel's historical decorations.
"Let me explain it to you," Bektimirev Bakhodir, Shukhrat's 18-year-old colleague, politely volunteered. "We all learned the history of the Silk Road when we were little."
Bakhodir told me the restaurant in the lobby was called "Samarkand" after Uzbekistan's second-largest city, which was a major stop on the once-bustling Silk Road between China and Europe.
Large pictures adorning the lobby's walls featured a line of camels, loaded with such Chinese products as silk and tea, passing by landmark buildings in a city as old as ancient Rome.
It is easy to understand Uzbeks' pride in the prominent part their country played in the transcontinental route's history. From the pictures, I could visualize the heyday of Samarkand, where different cultures met.
Despite the traditional ties between China and Uzbekistan, however, young people from both sides to seem lack knowledge about each other's current lives.
This does not mean they have no interest in each other - quite the opposite, in fact.
"When do Chinese women usually marry?" asked Shukhrat, who plans to wed at the age of 21. According to United Nations Development Program, the average age for Uzbek women to marry is around 20.
As a result, my reply - "Maybe after 25" - surprised him.
"On which floor does your apartment sit?" he asked. Again, my answer - "14" - surprised him, as he said most of the tall buildings in Tashkent have only nine floors.
Shukhrat, who can speak Russian, English and Turkish along with his mother tongue Uzbek, said he wants to learn Chinese, "a widely used language", at a local training center. He had no idea about the Confucius Institute in Tashkent, a nonprofit Chinese-teaching institution established there in 2005.
A part-time Chinese tour guide in Tashkent said that cultural exchanges, which were supposed to be facilitated by modern transportation and communication, should be more than what the two sides have now.
Few young Uzbeks have seen Chinese movies or TV dramas, while South Korean series are quite popular, she said.
And while China and Central Asian countries have undergone dramatic changes over the past two decades, many people's impressions remain unchanged, limited to "Soviet republics" and "the Great Wall", said a Chinese reporter who has worked in Central Asia for years.
His words reminded me that a friend who had visited Uzbekistan years ago had warned me not to make any phones calls to China in Tashkent, because the price was more than 10 times that of many other countries.
After arriving, however, I found the warning was unnecessary.
China and Central Asia are working to promote business and public exchanges. Proposals for new highways, railways and airlines to bring the two regions closer are now under discussion.
Currently, Uzbekistan Airways, the country's national airline, offers only one nonstop flight from Beijing to Tashkent a week.
Shukhrat said he plans to attend university soon and wants to major in civil aviation.
"When I lived near the airport when I was little, I was excited to see aircraft taking off and landing, with a lot of passengers going in and out of the county," he said, adding, "I wish to bring more people here to appreciate our culture and create more opportunities for Uzbeks to have contact with the rest of the world."
We recommend: