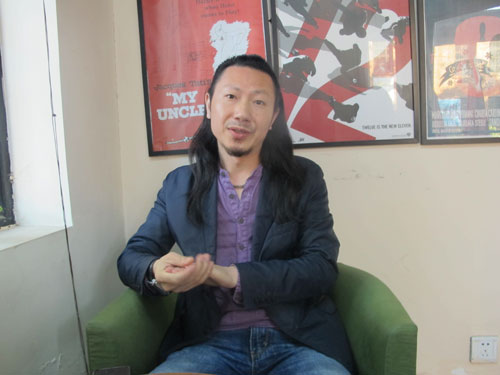 Zhang Siyong
Zhang Siyong, curator of the  New Millennium Gallery and  the planning director of the "Chinese Section" at  IX Florence Biennale.
Q: What is the focus of your work as a director of the exhibition?
A: This is the first time for Chinese artists to participate in the IX Florence Biennale for the "Chinese Section." It is another display of Chinese art to Europe and coincides with the nation's strategy to promote Chinese culture to the world. Meanwhile, it is a great step forward for Chinese artists from different places throughout China to participate in this exhibition as a professional group. As director, my work is to assist in the exhibition with the help of Chinese professional media and to reproduce the performance and significance of Chinese artists' exhibition in Italy to Chinese audiences.
Q: What kind of role does a curator play in an exhibition?What does it take to become a qualified curator?
A: A curator is the engine of a professional exhibition and his idea, competence and resources will determine an exhibition's direction. Around the world, especially in China where the artistic force is relatively dispersed, a curator represents the collective spirit of the artists. Wu Hongbin is a young scholar who was appointed by the committee to be the independent curator for the "Chinese Section." This is itself a pioneering innovation for there was no such thing as a Chinese curator at the Florence Biennale before except for some Chinese artists participating on their own. He was apparently chosen for his impressive competence. Nowadays, modern art depends largely upon curators: they have an obligation to present Chinese modern art in a systematic way to audiences and should have the confidence and energy required for this work.
Q: Is it a great breakthrough for Chinese artists to participate in the Florence Biennale as a group?
A: Definitely, yes. There used to be few opportunities for Chinese artists to take part in the Florence Biennale. Now we have a group of 12 artists and the number is already a great breakthrough. The appointment of young curator Wu Hongbin is also a breakthrough.
Q: For Chinese audiences who might not have the chance to visit the exhibition in Italy, is it possible for them to enjoy it in China?
A: We will gather all the firsthand materials from Italy and present the significance and creativity of the exhibition as it is sometime later in China. The first exhibition will probably be in Beijing next January and the second in Shanghai. Also, a series of meetings will be organized in cities where the artists are from.