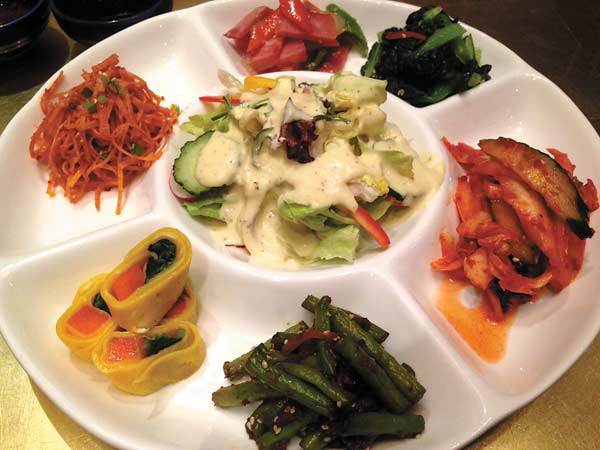 Yun Hai guarantees original tastes of Korean cuisine either by barbecued meats like appetizers. Photos by Pauline D. Loh / China Daily
As cuisines migrate around the world, they often blend with local tastes to cater for the less adventurous. But for the genuine food lover, it is the real thing that appeals, as Pauline D. Loh finds out in Beijing.
He has been in Beijing for 15 years, he says, and still speaks with a slight accent that testifies to the fact. Chary Jo, from South Korea, is restaurant manager of the Yun Hai Korean Restaurant inside the Kunlun Hotel in Beijing.
His mission, he says, is to guard the true tastes of home.
That is why he is always talking to the chefs at Yun Hai and talking to the diners, explaining the finer points of cooking and eating Korean. Occasionally, he even finds himself apologizing if he feels the ingredients are not quite up to Seoul standards.
Jo doesn't have to worry too much.
Yun Hai sticks close to the real flavors, unlike many Korean eateries in Beijing which almost solely cater to the local love of barbecued meats and hot, spicy pickles.
I decided to assess its authenticity by ordering what I feel is the ultimate litmus test for good Korean restaurants - raw beef salad with Korean pear and garlic chips, a sort of Asian beef tartar.
First, it always indicates how much attention the chef pays to the ingredients.
We Recommend: