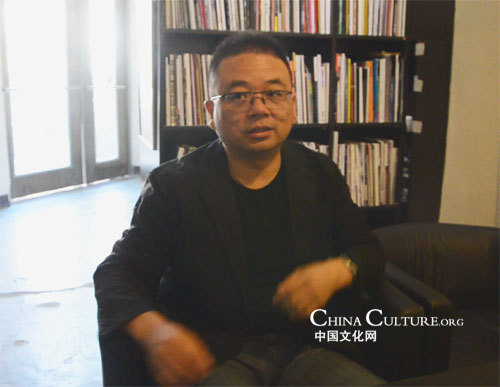 Wu Hongbin
This is the first time that a Chinese curator has been invited by the event's organizers to plan the Chinese section in order to present the styles and features of contemporary Chinese art.
The curator,  Dr. Wu Hongbin, receives an exclusive interview with chinaculture website, talks about his scheming process and expection for the exhibition.
Q: Can you please say something about the theme "Ethics as the DNA of art" at the exhibition?
With regard to the theme of the biennale "Ethnics as the Art," I think it's a contemporary reflection of culture, tradition, different regions and cultural inheritance. It's a time of globalization and many are taking culture DNA concept into consideration and seeking a presentation mode and the possibility of cultural transmission among people and culture circles. This can be viewed as an important motif in contemporary art. In accordance with this theme, we have chosen different styles of art, such as painting, ideas, images and various art mediums to study the position and status of DNA on the transmission of culture and art.
Q: What was the standard used to choose participating artists and how to deliver the curators' conception and intention through them?
A:Actually, it was a two-way process of exchange, first of all, as the organizer of the exhibition, the curator has his scholarly judgment, after he gets his ideas, he the finds the right artists, and discusses the exhibtion's theme with them until a consensus achieved. Academic communication is very important during this process, in addition, the artist's vision, the width and depth of thinking of this topic, also determines how the exhibition will be rendered.
Q: One thing about the Florence Biennale is that there will be special projects designed for young artists, have you taken this into consideration?
A: Yes, our artists are anywhere from 30 to over 70 years old. We hope that this wide age span will help present a holistic picture of Chinese modern art. Meanwhile, we've selected representative artists from different places all over China so as to comprehensively illustrate the development of modern art.
Q:Are there any specific examples which reflect the theme of "Chinese expression"?
A: Our selection of works exemplifies the idea of "Chinese expression" and we hope the works can embody the unique spirit of each respective artist. For example, we've selected several ink paintings. This type of painting is characteristic of Chinese art and when used to convey the artists' idea about modern art, it becomes a perfect combination of traditional and modern art. Besides, we've also selected works of oil painting for Florence, as the cradle of the Renaissance it is also the home of oil paintings.
We will take Chinese oil paintings there because we'd like to introduce a different version of the art to the west. Four artists have been chosen this time and each two make up a series: one is the legendary presentation of China, the other about the society of modern China. We hope these works will inform the audience of Chinese art and Chinese people's life through the media of imagination and reality. We've also selected a performance artist who demonstrates his understanding of DNA through his behavior and photographs. He explores the relationship between body, identity and society and presents how the body as the carrier of DNA exists in modern society and how it interacts with identity.
Q: What is your expectation for the "Chinese Section"?
A: It's a good chance for us to show Chinese culture to western countries.
We will show the artists' works at the Florentine Biennale, to communicate and engage in dialogue with Western society, Western-style art, through this opportunity, will let both east and west learn more about each other regarding the development of contemporary art through communication, which will inspire Chinese artists.
Artists need exhibitions as a platform and it is very important for a work to be disseminated in the right way. While artists are in charge of creation, we have the obligation to introduce their excellent works to the audience through exhibitions. The Florence Biennale provides a valuable opportunity for us by inviting a Chinese curator to present China's modern art.
By displaying Chinese modern art in Florence, the birthplace of the Renaissance with its long history of humanism, we open a dialogue with modern art and history across time and space. China hasn't entered into the age of exhibition and we'd like to take this opportunity to learn more about western artists, works and exhibitions. Meanwhile, we hope to open an equal dialogue between Chinese artists and other artists throughout the world which may enable the world to know about Chinese art and not just through commercial exchanges.