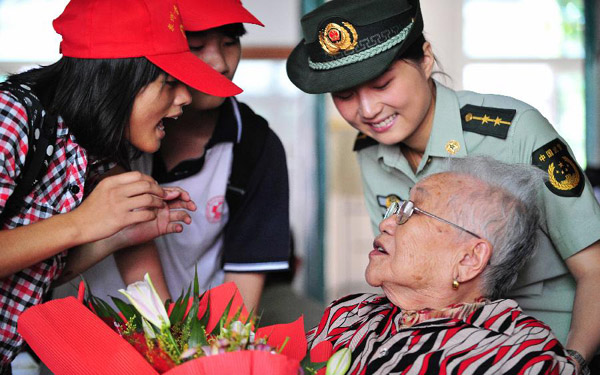 Youth volunteers and a policewoman chat with Su Mianmian, 90-year-old elder living in the welfare house, in Quanzhou, southeast China's Fujian Province, Oct. 13, 2013. People from all walks of life celebrated the Seniors' Day on Sunday, also the traditional Double Ninth Festival. It was the first time the holiday was observed since it was written into the newly-revised law on the protection of the rights and interests of the elders. (Xinhua/Wei Peiquan)
China celebrated its first national Seniors' Day on Sunday.
The Chinese government has made the ninth day of the ninth lunar month, the Double-Ninth Festival, a day to honor senior citizens since 1989, but this year's Seniors' Day is the first time the holiday has been observed since it was written into the revised law on protection of the rights and interests of the elderly.
In Beijing, Yan Futian, 76. enjoyed the day which gave him a one-off chance to visit the 9th China International Garden Expo with a free pick-up from his home.
Beijing has a population of more than 20 million, of which about a fifth are above the age of 60. About 400 people in Beijing celebrate their 60th birthday every day.
"From now on, in Beijing, newly built residential areas should contain aged care facilities," said deputy mayor of Beijing, Dai Junliang. "Enterprises to provide aged care services will have preferential policies and tax breaks," he added.
Although Beijing allocates more than 5 billion yuan annually for the care for elderly, the annual increase of 150,000 seniors is a challenge for the municipal government.
"We need the whole of society's help to provide better care for aged people," Dai said.
The reality of Beijing is a microcosm of China. China's population above age 60 reached 194 million at the end of last year, and China is the only country in the world with a senior population of more than 100 million. The figure is expected to exceed 300 million by 2025.
Without proper care from their children or society, more and more seniors in China are encountering psychological problems, including depression, anxiety and insomnia.
On Saturday, a 70-year-old senior from Shengyang City, capital of Liaoning Province committed suicide by jumping from her third-floor window.
According to her neighbors, the old lady had been depressed for years. The day before she jumped, she cried out, "Fire, fire!" in her apartment. But when neighbors rushed to help her, they found no fire.
"It demands the attention of the whole of society," said Liu Changhui, a psychologist of Shenyang Mental Health Center.
About 5 percent of the senior population have depression, about 5 percent seniors suffer from anxiety and about 44 percent of the elderly have insomnia, said Liu. "Seniors who came to Shenyang Mental Health Center to consult average 10,000 every year," he said.
Liu said that the psychological disease was caused superficially by illness and pain but more deeply it was caused by lack of care from family and society.
"There is cafeteria, barbershop and community center designed for seniors in my community," said Huai Jukui, a retired citizen of Beijing. Huai enjoyed his life, with a monthly pension of 5,500 yuan and medical insurance.
"But the best time for me is when I get to dine with my children and talk with them," said Huai.
For those who live in nursing homes, and whose children all left home for work, finding someone to talk with is what they need most, said a staff member at a nursing home in Yinchuan, capital city of northwest China's Ningxia Hui Autonomous Region.
"Many volunteers come to the nursing home and say they want to help on the Seniors' Day," said the staff, "but they don't know what the elderly need most."
The Seniors' Day should not be a mere formality, and care for the elderly should be in every day, said the staff.
Seniors do not only need services, but family affection and care. The society needs to learn how to provide better care for them. For they are the future of each one of us, said Chen Shouchun, an aging industry expert.
We recommend:
Great Wall surrounded by red leaves
Chinese books welcomed at Frankfurt Book Fair 2013