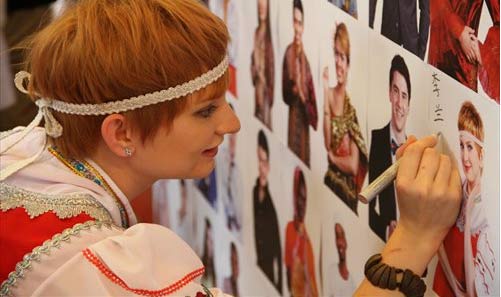 One contestant signs on the promotional poster. (GT)
Talent shows are in. And a show that hunts for talents in speaking Chinese is very in. A competition of Chinese language for overseas students in China was launched in Beijing Friday.
The competition, called Chinese Bridge: Chinese Proficiency Competition for Overseas Students, which is organized by China's Central Television (CCTV) and Hanban (Confucius Institute Headquarters), will determine the top Chinese-speaking talents with various language skills among 100 contestants.
"We hope to make changes for this competition now in its sixth year. So we will invite performance artists and TV news presenters to be these contestants' mentors," Wang Feng, the competition's director, said at Friday's press conference.
New sections like "career setting" and "mentors and apprentice show" will be incorporated into this year's competition.
The mentors consist of four national news program anchors from CCTV like Li Ruiying, one linguist from Beijing Normal University and the performance artist Qu Xuanhe. Each mentor will choose their favorite contestants to form a team and guide them through the competitive sections.
The 100 contestants, aged from 18 to 52, come from over 50 countries and regions. Most of them started to learn Chinese in their own countries and then came to China for further studies. They will not only demonstrate their language skills, but also show off other talents like traditional Chinese dances, singing Chinese songs and even performing xiangsheng (crosstalk).
The competition will be aired on CCTV 4 from August 21 to 30, and the final competition falls on August 31.