Custom-made culture
Tourism has helped the Miao ethnic group preserve their culture and traditions and brought a new awareness of their cultural identity. Erik Nilsson reports
Villagers at Xijiang, Guizhou province, stage a grand show of their history featuring brilliant folk attire and rich customs at the central square. Photos by Erik Nilsson / China Daily
Xijiang's "drum people" say they march toward modernity to the rhythm of tradition. Most of the 6,000 residents of the world's largest Miao village in Guizhou province - known for the belief that their ancestors' souls dwell inside percussion instruments - say tourism has spared them from becoming migrant workers. Consequently, they can remain in the settlement and live according to local customs. "Many people who went to work in cities have been coming back," 35-year-old guesthouse owner Li Zhen says. "After living outside, we have a new awareness of the importance of our ethnic culture and of ways to preserve it."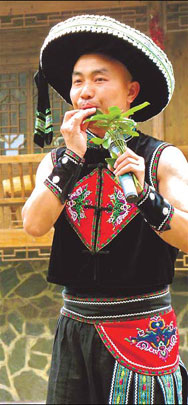 Miao people are good at making lovely music with plain looking leaves.
Li left in 1997 to work for two years in a Shanghai textile factory, where she earned 1,000 yuan ($148) a month.