Tibet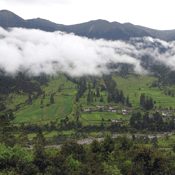 Geography
Locked in by towering mountains, the Tibet Autonomous Region, on China's southwestern border, lies in the main part of the Qinghai-Tibetan Plateau, the highest in the world. Set up as an autonomous region in 1965, it is situated 78'24"-99'06" east longitude and 26'52"-36'32" north latitude with an area of more than 1.2 million square kilometers, acc ounting for 1/8 of the country's total area and ranking 2nd only to Northeast China's Xinjiang Uygur Autonomous Region in the country. Tibet neighbors Qinghai Province and Xinjiang in the north, Yunnan Province in the southeast, and Kashmir, India, Nepal, Sikkim (state in India), Bhutan, and Burma in the west and south.

 Climate
Tibet has a highland climate, with lower temperature and less precipitation than most parts of China. It has thin air, long hours of sunshine, and intense solar radiation. There is a great difference in climate between the north and south -- the northern Tibet Plateau has a mean annual temperature of -2 degrees Celsius and is covered with snow half of the year, and the southern Tibet valleys are much more temperate and humid.



 Administrative Division and Population
It is divided into 1 municipality, 6 districts, 1 county-level city, and 76 counties, with a population of 2.62 million as of 2000. The municipality is Lhasa, while the six prefectures are Shigatse, Ngari, Shannan, Chamdo, Nagchu, and Nyingchi. Populated principally by the Tibetan people, Tibet also has Han, Menba, Luoba, and Hui ethnic groups.
Zanba (roasted highland barley flour), mutton, and beef are the staple food of Tibetans. Tea with butter or milk, sour milk, and cheese are the favorites of all Tibetans. Other special food includes Qingke barley wine, roasted highland barley flour, and snow-lotus.

 Culture
Tibetans like singing and dancing. Another local art is Tibetan Opera, which is one of the most famous art opera forms in China.