World's Largest Bronze Statue of Maitreya Buddha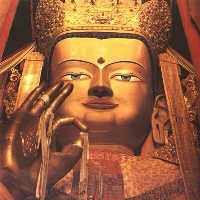 Being the residence of Panchen Lama and of the "Four Famous Monasteries" of the Gelug Sect of TibetanBuddhism, the Tashilhungpo (meaning auspicious Sumeru) Monastery is located on the southern slope of the Nyima Mountain to the west of Xigaze City.
West of the Tashilhungpo Monastery is the Maitreya Buddha Hall, which was built in 1914 under the supervision of the 9th Panchen Qoigyi Nyima. The hall is 30 meters high and covers 862 square meters.
In the hall, thebronzestatue of Maitreya Buddha is the largest of its kind in the world. The statue used 6,700 taels of gold and 115,000-odd kilograms of copper. The statue sits on a 3.8-meter-high lotus seat. It is 26.2-meters high, with the shoulder 11.4 meters wide, the feet 4.2-meters long, the hands 1.6-meters wide, the middle finger 1.6-meters long and ears 2.8-meters long. Between the figures eyes are inlaid a total of 1,400 pieces of diamond of various sizes, pearls, amber, coral and other precious stones.
According to the Buddhist doctrine, the Maitreya Buddha is the Buddha of the future, who will take the place of Sakyamuni after 0.57 billion years.