Yamzhog Yumco Lake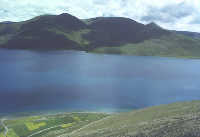 Within the boundary of Nankartse County, Yamzhog Yumco covers an area of 678-square kilometers, at 4,441 meters above sea level. It is one of three holy lakes, the others being Namtso and Mampang Yumco. It is the largest inland lake at the northern foot of the Himalayas.
Yamzhog means upper pastureland and "co" mans Lake in Tibetan. When overlooking the Yamzhog Yumco Lake, one might envision a gigantic sapphire within surrounding mountains.
The lake has nine islands, of which one houses the famous Samding Monastery -- a Nyinmapa monastery. This monastery is the only Tibetan monastery to be headed by a female reincarnation. Since it is not a nunnery, its female abbot heads a community of about 30 monks.
The Yamzhog Yumco Lake is rich in hydroelectric power. The drop between the lake surface to the Yarlung Tsangpo River at the foot of the mountain falls more than 800 meters. The Yamzhog Yumco Power Station at such a high altitude is well known in the world.
The charming lake produces abundant fish resources. In the lake and the surrounding expansive pastures, animals and birds grow with vitality. There are dozens of lake islets where birds perch. Shepherds ferry their sheep flocks to the islets during herding season since no wild animals are found there. The sheep return in winter.
Today, both pilgrims and tourists can be seen walking along the lake's perimeter, enjoying the diversified fauna and flora, admiring the snow-capped mountains in the distance and visiting the villages scattered along the shore.