Qomolangma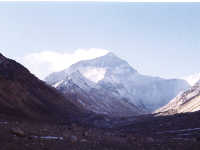 Qomolangma, meaning "the third Goddess of mountain" in Tibetan, is the highest mountain on earth with an altitude of 8,844.43 meters. It is called the "third," because there are four other peaks standing around it and it is the third in the line.
Mount Qomolangma, known to the West as Mt. Everest, stands a the south of Tingri in southern Tibet, on the borderof the central Himalayas, between China and Nepal.
It is the tallest mountain in the world, and thought to be some 60 million years old. This majestic peak, capped by enternal snow, has long attracted mountaineers, scientists, and ordinary tourists.
The Tibetan approach to Qomolangma provides far better vistas of the world's highest peak than those on the Nepal side. The optimum weather on Qomolangma is from May to June, and from September to October, two golden periods for mountaineers. Each year a great number of brave mountaineers come from all over the world to tour and climb Qomolangma, hoping to fulfill a life-long wish by climbing and looking out from the world's highest peak.
Some 27,000 square kilometers around the mountain's Tibetan face have been designated as the Qomolangma Nature Preserve, aiming to protect the environment and the cultural traditions of the local people.