Fast-Breaking Festival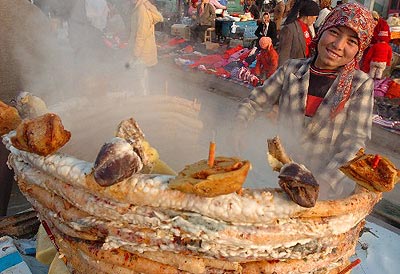 The celebration at the end of Ramadan is called the Festival of Fast-Breaking, or Eid-ul-Fitr in Arabic. It is one of the most important festivals of the Islamic world, celebrated by the Hui, Uygur, Kazak, Ozbek, Tajik, Tatar, Kirgiz, Salar, Dongxiang, and Bonan ethnic minorities.
Every September, Muslims must fast from sunset tosunrisefor a whole month. The Festival of Fast-Breaking marks the end of the month of Ramadan. The celebration lasts three days, although the main festivities occur on the first day, which is also the first day of the next month (Shawwal).
It is said that Islam was founded on October 1st of the Muslim calendar. So on this day, Muslims come to local mosques with their white hat and new clothes to celebrate the annual festival.
On the fast-breaking day, every adult must bathe before worship. The sacred atmosphere of the whole ceremony is the symbol of Muslims' united and persistent spirit. Before the ceremony, the history of the Festival of Fast-Breaking will be preached in order to persuade the followers to obey Islam's moral ethic. Muslims dress in holiday attire and attend a special community prayer in the morning, during which greetings of "Eid mubarak," or "a blessed Eid" are exchanged.
The joy and thankfulness of fulfilling the month-long obligatory fast is demonstrated through a special prayer as a community in the mosque, visits with family and friends, special foods, and the giving of gifts to the children. A special charitable donation is also made, either a specific amount of food or money in the amount equivalent to the cost of a family meal. In some places, children are given gifts or money by their parents and relatives. Finally, Muslims will mourn for the dead, to remember the past and encourage themselves to create a colorful life.
During the festival, every family blast "Sanzi" and gain "fried cake" to celebrate their festival. There is a legend about this custom. It is said after a successful fight, everybody strived to be the first to invite Mohammed, the founder of Islam, to his or her home. Mohammed visited a poor elder instead of the rich. Lacking delicious food, the elder served him fried cake, which Mohammed shared with the children. From then on, a traditional habit of eating fried cake with the right hand was nurtured.
To the Hui ethnic minorities, the festival is also their New Year. They usually visit relatives and neighbors with presents during this festival. Many Hui youth choose this time to host their wedding ceremony. The propitious and bright atmosphere makes the holiday more florid and charming.
After the founding of New China in 1949, the Festival of Fast-Breaking was set as an official festival for the Muslims in China, and students and workers of all ages have this day off from school and work whenever possible.