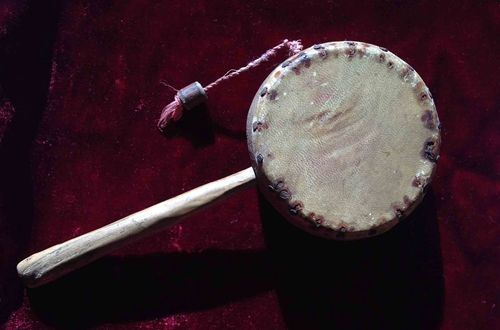 The rattle-drum collected by the National Museum of China [people.com.cn]
The National Museum of China has welcomed its first ever rattle-drum on Dec 8. The palm-sized antique rattle-drum was a gift to Chinese premier Li Keqiang during his visit to Yiwu International Trade Mart in Zhejiang province in November.
The rattle-drum, which has a long history of over half a century, was used by the Yiwu people when they were starting their business.
A local businessman presented the Premier the gift and said, "We give the Premier the rattle-drum, hoping that the Premier can rattle it, symbolizing business prosperity according to our custom."
After the Premier received the rattle-drum, he not only rattled it, but also said, "I should donate this gift to the National Museum", as the gift is precious and represents the Yiwu spirit.
Yiwu is known as the "World's Supermarket" and its goods are China's calling cards. The entrepreneurial Yiwu people are recognized as having a special talent for doing business and exploring the world.
A party chief from the National Museum said that, the rattle-drum collected by the museum will serve as a memento of the hardship the Yiwu people went through in their entrepreneurship at the start of the reform and opening up, and will help the museum in its research and showcase of cultural relics in the contemporary era.
He added that the rattle-drum will be on show in the museum's exhibition "The Road to Rejuvenation".