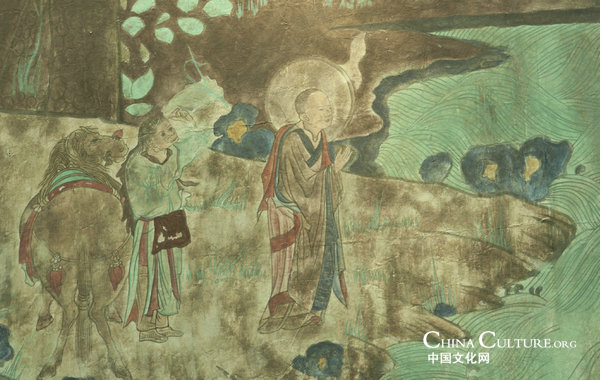 The frescoe in Eastern Thousand-Buddha Cave [Photo/ Chinaculture.org]
The Silk Road traverses the Asian and European continents via deserts, snowy mountains, the Gobi desert, grasslands and lakes. It is an important road in Chinese history and today it is vulnerable as expressways are built over sections, along with many cables and signal towers. It's a sight that presents a prosperous, modern civilization. But how much of the ancient civilization still remains? And how much will be left for our descendants?
Eastern Thousand-Buddha Cave
The Eastern Thousand-Buddha Cave is situated along the Silk Road, 92 kilimeters southeast of Guazhou county in Gansu province. It was first built in the Western Xia period (1038-1227). Many frescoes and statues are in the cave, representing the crowning achievement of Buddhist art in the Western Xia period.
However, according to Geng Ying, president of the Chinese Cultural Heritage Foundation, it has been heavily destroyed, with only 23 caves still left (seven caves collapsed) and many frescoes continuously falling off from the top.
An expert with the heritage foundation who many times has investigated the cave said that the biggest problem is the shortage of funds. Salvaging and restoration work require a lot of money and personnel but the government provides limited funds, so it can't be done now.
Therefore, the Eastern Thousand-Buddha, representative of Western Xia culture, only receives basic guard service, paid for by government funds. It still has a long way to go before being fully restored.
We Recommend: