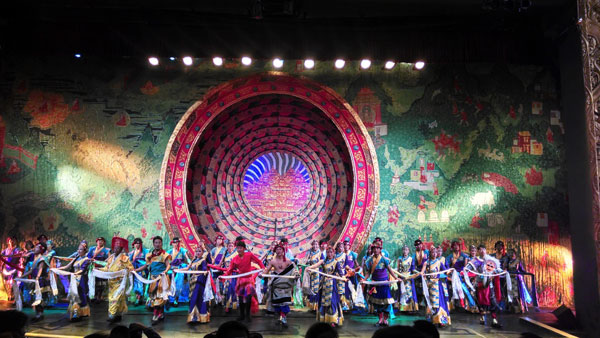 The daily show at the Tibet Drama Theater, Happiness on the Way, showcases Tibetan music and dance.[Photo by Bidisha Bagchi/For China Daily]
Bargaining was easy, too. I bought a handbag for 20 yuan ($3) when the female vendor had asked for 35 yuan. Both of us - the buyer and the seller - looked happy at the end.
Vegetablesand meat that were skewered and cooked in front of us at roadside shops were delicious and unexpectedly cheap. The only problem was the language. As English isn't spoken or understood by the local people, it was difficult to hold conversations except for exchanging a few pleasantries.
But even then, we relied on guessing the meaning of Tibetan words and enjoyed the food.
The roadside eateries did brisk business by offering not just local food but Nepalese and Korean barbecue as well. Blissful indeed!
The best partof evenings in Lhasa was perhaps going to the cultural shows. Himalaya - a daily exhibition of Tibetan culture through songs and dances - was held at the Lhasa People's Cultural and Art Museum. A similar show titled Happiness on the Way also ran for about 100 minutes every evening at the Tibet Drama Theater.
For one such show, we reached the theater a little ahead of show time so as to avoid rush hour. With tickets for the fourth row, we had seats with a full view of the stage in front of us. Two screens on either side of the stage explained every scene in Mandarin and English. That made it easy for us to follow onstage performances.
The show opened with a ceremony, and went on to depict Tibetan culture through five themes and five different colors, based on the Tibetan philosophy of five elements of nature - water, earth, wind, fire and sky (space).
We were mesmerized for about 100 minutes as we watched the well-choreographed dances, the beautiful play of lights, vibrant sets and colorful costumes of the dancers. The reba drum dance, lama dance, wheat cultivation, making wine from barley and wedding scenes were all explained through the performances.
The show ended with a song that everyone in the audience ended up singing, including me. Music truly does not have any borders, be they cultural or religious. We all sang aloud and sometimes hummed, even though we did not know the meaning of the words or how to pronounce them correctly.
Our evenings in Lhasa were packed with shopping, eating and watching cultural shows. It was money well-spent. We definitely need to plan another trip - soon.