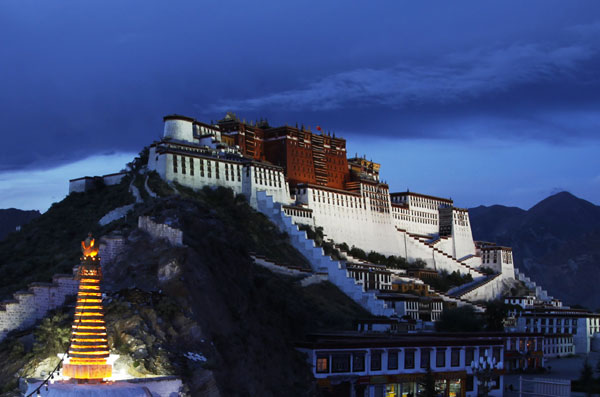 The illuminated Potala Palace dominates the skyline of Lhasa, capital of the Tibet autonomous region.[Photo provided toChina Daily]
Cultural shows in the capital of the Tibet autonomous region fill a tourist's evenings with delight while roadside shops serve up some delicious and inexpensive local delicacies. Bidisha Bagchi explores.
Upon landing at Lhasa's Gonggar airport on a full-moon night, we were greeted by our local tour guide with a hada - a white silk scarf that signifies goodwill, purity and good fortune.
It was quite late when we reached our hotel, conveniently located near Barkhor Street, which felt like the hub of activities in the city. I thought I would see a Lhasa that is fast asleep. Well, I was wrong. The entire place was alive with people's chatter, well-lit shops and roadside stalls selling local delicacies.
I instantly knew that evenings in the capital city of the Tibet autonomous region were delightful.
We spent our days visiting the city's various tourist spots, and once back at the hotel, took a shower and went out for walks. Our hotel was within walking distance from Potala Square, the city's main public space. The awaiting rickshaws tempted me, but I preferred to walk. A cool breeze forced us to wear light jackets.
The Potala Palace and the stupa in front are both lit up in the evenings. The sight is gorgeous. We spent a lot of time just walking around the square, which is opposite the palace. Musical fountains entertained tourists and local people alike.
Hundreds of people were there at the square. Many of them strolled. Some just sat around. And others leisurely talked to their friends.
On our way back, we took a rickshaw. Although this environmentally friendly, simple vehicle is commonly seen across Asia, and is of little novelty value to me, I still loved the ride back to the hotel.
On the second night of our stay, we went out again. Even though we were told that the Tianhai night market had better options for street food and shops, we preferred Barkhor Street, mainly because it was closer to our hotel.
There were rows of makeshift stalls offering a variety of things from prayer beads to traditional jewelry and from embroidered handbags to skirts and scarves.