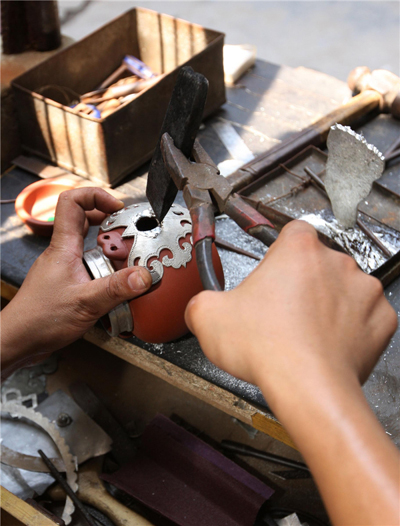 Chen Baoyu is making tin coating for a pot, near Bozhou, Anhui province, July 28, 2013. [Photo/Xinhua]
Chen Baoyu, who was born in 1980, is the 4th generation of craftsmen to make tin pots, in Mengcheng county, Anhui province and mastered the skill at an early age.
He says that the tin pots are entirely handmade and that the heating and other skills are important in the work process. They depend heavily on experience and hand power and there are no fixed standards really.
It usually takes about seven days to make one pot and, over the last 10 years, Chen has made more than 1,000 tin pots in various styles, which are now of the property of collectors from Jiangsu, Henan and Shandong provinces.
In Anhui, the tin pot craft can only be found in this county, and there are a very limited number of artists who have inherited the tradition.
We recommend: