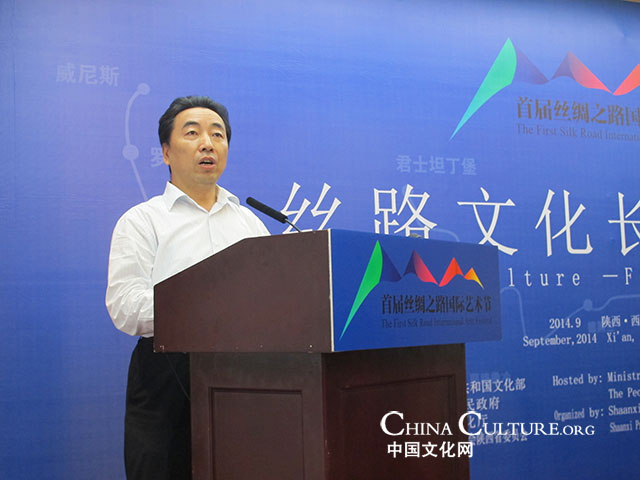 Liu Kuanren, director of Department of Culture of Shaanxi province, attended the opening ceremony of the Silk Road Culture Forum in Xi'an, Shaanxi Province, on Sept. 12, 2014. [Photo/chinaculture.org Yang Qi]
China's initiative to build the New Silk Road Economic Belt has received positive response from provinces and countries along the Belt, as more opportunities will be brought forward for regional development and cooperation.
Xi'an, home to the well-known Terracotta Warriors, was where the ancient Silk Road started. An older name of the city, Chang'an, means "lasting stability and peace."
Liu Kuanren, director of the Department of Culture of Shaanxi province, proposed the plan to further drive Silk Road cultural industry development and cultural exchanges in an interview during his attendance at the first Silk Road Arts Festival in Xi'an.
"Culture becomes abundant through exchanges and integration. During the New Silk Road Economic Belt building process, we should be deepening cultural exchanges and extending Shaanxi cultural characteristics and a new image to the world, seeking common ground while shelving differences, respecting each other and learning from each other ," Liu said.
Shaanxi province has inked the Frame Agreement of North West Five Provinces Cultural Development Strategic Alliance to build the Silk Road Economic Belt with Gansu, Ningxia, Qinghai provinces and Xinjiang Uygur Autonomous Region, according to Liu. " We will closely knit with the cultural organizations of Kazakhstan by way of holding the Silk Road International Arts Festival, giving full advantage of communicating with Central Asian countries," Liu asserted.
According to Liu, the Cultural Department of Shannxi province has mapped out a detailed Silk Road Development Plan and will promote 30 cultural projects outlined by Shaanxi provincial government, including Tang King Market and Sanqiao Silk Road Cultural Industrial Parks. "Xi'an will be built into a State-level culture demonstration zone along the Silk Road Economic Belt, fully playing a leading role for the economic belt development," said Liu, "The central cities along the belt targets to build a batch of Silk Road cultural tour destinations combining traveling, arts and entertainment as one through scientific plans and reasonable layout".

Special Coverage: