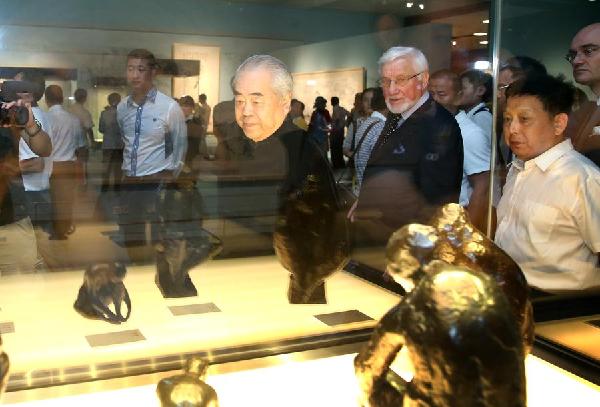 Fan Zeng enjoys Jean Cardot's sculptures at the joint exhibition at the National Museum of China inBeijing, Aug 29, 2014. [Photo/Xinhua]
A joint exhibition of Cardot's sculptures and Fan Zeng'spaintings,Tradition and Innovation, is underway at the National Museum of China.
Jean Cardot, a renowned sculptor in France, is exhibiting his works in China for the first time. Included are 82 pieces, statues of Charles De Gaulle and Winston Churchill. Famous Chinese painter Fan Zeng also brought 50artworks to the exhibition. Among them,A Music From GuanglingandA Journey on the Seaare being shown to the public for the first time.
The exhibition, held by Peking University, the Chinese National Academy ofArtsand Charles de Gaulle Foundation, is in celebration of the 50th anniversary of Sino-French ties. It will run through Sept 21.