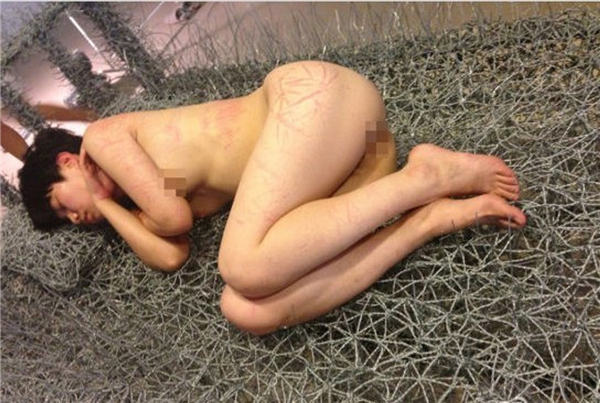 'I'm confused as to why people only focus on the wire bed, and think the exhibition only starts when I lie on it.'
During opening hours, she talks with the visitors, and is happy for them to touch the bed, and even lie on it. She also spends time finishing the wire bed and what she calls "the plush toys", which are shaped like bears, dogs, turtles and Hello Kitty dolls.
"They are sculptures - finishing them is my work, and thus also part of the exhibition. I'm confused as to why people only focus on the wire bed, and think the exhibition only starts when I lie on it," she says, adding that as an artist, she finds it amusing that the news of her lying naked on the bed has made headlines in the entertainment news sections.
Curator Hang Chunxiao says: "The point of the exhibition is that Zhou acts as she would in her regular daily life."
Prior to the exhibition, Zhou - who has the full support of her boyfriend, her mother, father and older sister - and Hang had many discussions about how to begin, including whether she should kick off by lying naked on the bed, because she often sleeps in the nude when the weather is uncomfortably humid.
But the fact of sleeping naked or not should never overshadow the rest of the exhibition, Hang says.
On the afternoon the exhibition opened, the hall was hot, and Zhou - exhausted by days of preparation, mainly weaving the bed and toys from wire - lay down naked without a second thought, she says.
However, things became complicated when the gallery owner, Huang Liaoyuan, posted photos on Weibo, China's Twitter-like social networking site.
The nude photos won praise and support, but also provoked criticism - something with which Zhou is all too familiar; at a graduation exhibition in 2010, she presented her porcelain work CBD, in which white buildings resembling organic growths expressed her impressions of the Central Business District, which she first encountered in 2005 when she left her hometown of Changde, Hunan province.
In 2012, she held a solo exhibition of porcelain sculptures - red, oddly shaped objects whose smooth surfaces are disturbed by thick layers of small dots resembling bacteria - at Huang's gallery. Although Zhou's sculptures have been criticized as "unbearable" and "sickening" by viewers and art critics, in 2010 they were collected by the White Rabbit Gallery, a Sydney-based gallery for Chinese contemporary art, and she is the youngest artist to have been given a contract by the Beijing Art Now Gallery.
Zhou says she usually doesn't worry about what people say, or if they feel disturbed by her work: "It's normal that some people will like a piece of art, while others don't. I just work in a way that I feel will create meaningful art. Once the exhibition opened, I had no control over future events or how people would react. That's all this exhibition is about; real life. Everything that happens just happens."
We Recommend: