The exhibition 'Volti: An Architect of Femininity' is currently underway in Beijing and will run through August 17 at the Beijing World Art Museum. One hundred works by French sculptor Volti are now on display to the public. The Mediterranean style featured in the sculptures and drawings is giving Chinese art lovers a rare view into the world of French art.
The exhibition is co-sponsored by the Chinese Ministry of Culture Cultural Exchange Center, Beijing World Art Museum, Tianjin Art Museum, Museum of Sichuan, Museum of Wuhan, China Art Palace, Volti Foundation and the Paris Volti Exhibition Planning Company.
Antoniucci Volti is the famous contemporary French sculptor and painter. This exhibition is the first to display 100 works from this artist in China. Taking femininity as its main theme, covering different artistic periods, it covers sculpture, drawing, chalk, tapestries and other types of work, which not only shows the distinctive artistic styles of Volti's work, but also reflects his creative talent. The care and spirituality of women depicted through Volti's works demonstrate the inner life of the French artist and his appreciation of femininity.
"The exhibition of Volti's works has refreshed our knowledge of contemporary arts. It opens a window to the art world and its evolving history," said Wang Limei, curator at the Beijing World Art Museum.
French Ambassador Sylvie Bermann and officials from the Chinese Ministry of Culture attended the opening ceremony and visited the exhibition. The artist's son, Nicolas Antoniucci, who now works as the president of the Volti Foundation, was also present.
This year marks the 15th anniversary of Sino-French diplomatic relations. As one of a series of activities to commemorate that, the exhibition tour will last nearly 10 months in China. The first exhibition was in July 2014 at the Beijing World Art Museum. It will next hold shows in April 2015 in Tianjin Art Museum, Museum of Sichuan, Museum of Wuhan, China Art Palace in Shanghai. After returning to France, it will participate in the 100th anniversary exhibition in France organized for commemoration of Volti.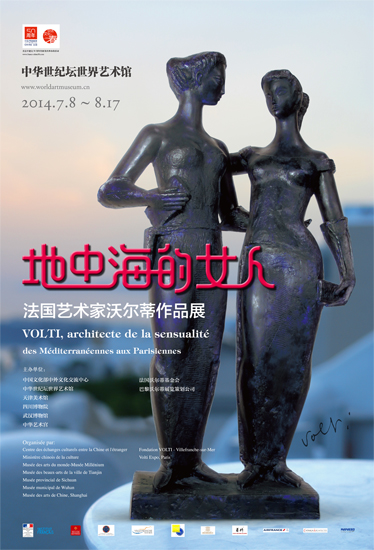 Antoniucci Volti (1915-1989)
Volti was a famous French sculptor and painter. His sculptures rival Rodin and Bourdelle, and are often compared to Maillol Henry Moore. Mainly featuring females, his works embodies compassion, tolerance and peace. Standing out from the contemporary artists, he is considered one of the world's top 10 masters of contemporary sculpture after Rodin.
In 1981, the Volti Museum was established in his hometown, the coastal town of Villefranche-sur-Mer. Many of his works have been collected by more than a dozen museums like Paris Municipal Museum, the National Museum of Modern Art in Paris, Nice Museum, Fontainebleau Museum, New Orleans Museum. In addition, many private collectors are also his loyal fans, including famous movie stars such as Alan DeLong.
We Recommend: